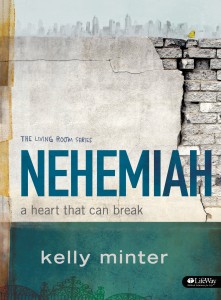 One of our missionaries asked this past week for our best recommendation as to our best Bible study recommendations. Would you help us make a short list? Would you include, for example, Kelly Minter's study on "Nehemiah: A Heart that can Break," at…
http://www.lifeway.com/n/Product-Family/Nehemiah:-A-Heart-That-Can-Break
Kelly Minter's 7-week study, Nehemiah, fits well with a church missions emphasis. She emphasizes the concept to let God break your heart for the hurting, lost world and move you to lead people to Jesus.
Or would it include Beth Moore's "Breaking Free: The Journey, the Stories," at…
http://www.lifeway.com/n/Product-Family/Breaking-Free-(2009)
or John Eldredge's, "Wild at Heart," available as a video series at…
http://store.faithgateway.com/wild-at-heart-a-band-of-brothers-small-group-video-series
Which studies would you recommend? If you know of one or more, please click "Comment" after the web version of this item. Thanks in advance for any help!