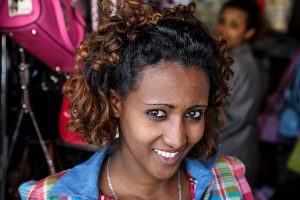 Kitira (not her real name, for security's sake; but she's a real person) is a 27-year-old young lady, brought up by devout evangelical parents in one of the most restricted regions of East Africa. Unlike most second-generation believers, Kitira grasped from early childhood the value of Kingdom participation being something more than life on earth, inspired by her father's life and ministry. As a young lady, she was kidnapped by a radical Muslim group during a mission trip to a very-restricted region of her country in East Africa. Even though a person within her team tried to lie on her behalf, saying Kitira was Muslim, she chose to tell the truth that she is a devout follower of the Lord Jesus Christ. In short, she would not sell out, even if it meant her death. She risked all to remain faithful, in the midst of life's most severe challenge. On that day, something amazing happened. The leader of the radical Muslim group turned to the group member who was trying to lie on Kitira's behalf. He told the liar, "We're going to allow her to live, not as a result of your lie, but as a direct result of her courage to tell the truth." In what was nothing short of a miracle, he then released Kitira and her entire team.
This past summer, in a further show of courage, Kitira volunteered to join in a unique partnership with an indigenous ministry in East Africa in a new joint venture to change eternity for families in East Africa. Last week, after wrapping up six months of intensive training, her trainers declared her ready to deploy. As we tidy up our kitchens from Thanksgiving dinners, she is now serving with a tribe of people who come from a land said (by Open Doors) to be, for Christians, one of the top three most dangerous places on earth.
We asked Kitira what she would most value, if we were to pray for her this week. She answered — "Please pray that God would make me fruitful in winning others to His Kingdom." Notice, she didn't ask for safety. She didn't ask for health. She didn't even ask for a great place to live in this very-rustic land where she will serve. She asked for fruit. On this special day when many families will jockey for spots in shopping lines, would you pause and pray (maybe as a family) for Kitira to be fruitful for Christ's sake? And even though she didn't ask for it, please join us in asking God to watch over her, to keep her as safe as she is courageous, so that she may be fruitful for many years to come.
[Note: In an effort to safeguard her security, we featured above the picture of a young lady who looks very much like Kitira. However, we trust that you understand we cannot use a real picture of her in publicly-communicated emails or on the web.]