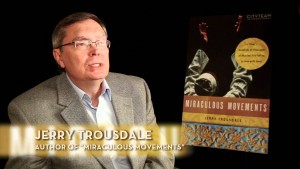 Around six months ago, there was a flurry of momentum in preparing materials in disciple-making movements (DMM). But it looks like iDisciple (CityTeam's website) has kind of floundered at…
Of course, rather than sitting behind computers doing office work, maybe everybody's out making disciples. : ) But still… who's writing. Their latest conference shows up as 2014…
But I thought for sure they had one in Mesa, AZ, in 2015. Trousdale's book (Miraculous Movements) still seems to be gaining momentum, right?
http://www.cityteam.org/about/books.php
And Harry Brown wrote, "The DMM Principles God has revealed to Cityteam are Simple, Sustainable and Scalable allowing movements to spread across the globe. Over the last 10 years we have seen the Lord raise up over 35,909 new churches with 1,086,406 new believers in 51 countries spread across 303 different people groups." But, alas, it's hard to find the state of the art. What are YOU seeing in DMM resource preparation? Where are the sites and training materials YOU are using?