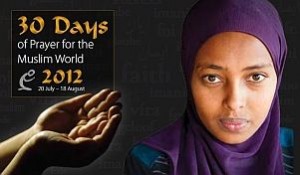 Seems like only yesterday that "30 Days of Prayer" started their ministry. But it was actually 1993, two full years before even Brigada started! It always takes place concurrently with Ramadan, which indeed started on the 20th of July. If you haven't ordered your guidebook yet, never fear: See the online presence at..
or, while you're there, order a booklet that matches your favorite region or religion so you can follow along in print. They now print the booklet in 30 languages. So this is their 21st edition! Congratulations and "keep up the good work," Ron, Victor and the 30-Days Team.
If you want to get on board with the 2012 campaign, better get started soon. It'll all be over on Aug. 18th!