Create International and the Visual Story Network are thrilled to host the 2020 Visual Media Strategy Forum Mar. 28th-29th in Chiang Mai, Thailand. They believe that these few days of focused collaboration will result in continued partnerships for bringing the knowledge of the glory of God to many who still have not heard. Register now for your place at this milestone moment at: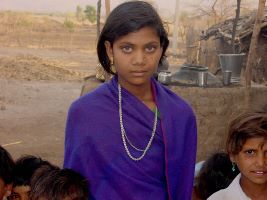 The producers of the Waiting World Prayer videos series have decided to make their videos available online at no cost. These videos are prayer videos that can be used to start intercessionary prayers for the lost of the 10/40 Window. Included are 36 unreached people group videos, videos on the 10/40 Window, Islam, Hinduism, Buddhism, Animism. and the Great Commission. Check it out at…
If you can use dynamite video media on the Maratha, Balinese, Punjabi, Golog, Shan, Uighur, Azerbaijani, Wolof, Zhuang, Sasak, Pushtun, Khmer, Soninke, Tibetan, Fulani, Burmese, Baluch, Han Chinese, Makassar, Mongol, Nepali, Rajput, Vietnamese, Bengali, Albanian, Indian Urban, Iraqi, Japanese, Bhil, Gur, Lampungese, Thai, Kashmiri, Arab, Berber, Turk, anyone in the 10/40 Window, anyone in the Islamic world, anyone Buddhist, tribal/animist, and anyone focused on the Great Commission, you'll find a video for YOU. This video, for example (which we might title, "We Speak to Nations," or "Hear the Sound," might work at your next mission rally or event. You could use either title, or even the title, "Be Free," as the theme of your next event and use this video as your rallying point video:
www.dropbox.com/s/y4pcgr972sb3iom/We%20Speak%20to%20Nations%20copy.mp4?dl=0
Imagine, if your church is open to choreography or the use of flags or even "worship dance," imagine a group helping communicate this song to the audience while the video plays on the big screen. Powerful.
You could use this video on the Great Commission on the second night:
www.dropbox.com/s/ulz5nhje7t28f9r/Great%2520Commission%252010-11.mp4?dl=0
By doing so, you could help put an end to all the people who told Barna they had no idea what the Great Commission says. The testimonies near the end are diverse — so you could introduce greater diversity to your group — even if it's very monocultural or monoethnic.
This is really incredible — that they're letting us download 1.2 Gig high res videos. Awesome. Thanks to "thewaitingworld"!!! The crazy thing is — they haven't even branded these videos with appeals for funds or even with clear logos to build their brand. It's like — they actually just care mainly about getting out the message. Love it.
Didasko Academy recently added video subtitles in 20 languages to their free online video-based missions courses. A full list of languages can be found here:
www.dasko.org/courses/multiple-languages
Didasko Academy focusses on training missionaries to reach the UPGs. Course include:
* The Bible and Missions.
* Discipling the Nations.
* Roles in Frontier Missions.
Courses are self-paced, and can be done individually or in facilitated groups.
Got to say — this looks like awesome stuff. And can it be that this training is free — and that donors can pitch in toward the cost if they want? Whoa. Great stuff.
When we grow up, we want to be like Howard Culbertson:
He pretty much just about archives the world there at his site. The missionary call, missiology, maps, introduction to biblical literature… the list goes on forever. Please Lord, bless this man.
United World Mission and their network of ministries in North America provide strategic opportunities to connect individuals and churches with more than 25 unreached people groups that now live in cities such as Charlotte, Philadelphia, Portland, Toronto, Phoenix, Dallas, Colorado Springs, New York City, and Clarkston. If you're ready to Engage, contact Jordan
jordan
smith
uwm
org (jordan
smith
uwm
org) or Mark
mark
szymanski
uwm
org (mark
szymanski
uwm
org)
Confession: As the President of a non-profit of 330 full-time workers, I (Doug) have no idea what my salary should be. Our board members are caring people. They want my needs to be met. But our organization is practically ALL faith-based. We raise support for the org equal to our ministry costs plus our salary. So what's fair? What's common? I don't want to make anything that seems unkind to the people I'm supposed to lead, you know? Many of them are living *very* humbly in the places they serve. So — I was always a bit uncomfortable. What were other orgs doing? I had no *clue*. That's why I was *thrilled* when Missio Nexus released their "Senior Leader Compensation Study — June 2019." (How did they know I needed this?) Yes — you'll have to join Missio Nexus to read it. But if you're like me, you'll be glad you did. Join first as an individual, if you like, just to try it out. (Confess: That's what I did. And I've never looked back. This year, our whole org joined because of their new group health program. It was a no-brainer.) In this report on CEO salaries, you'll see how yours stacks up against others in your region and over all. It's 18 pages of charts, graphs and explanations. VERY clear. VERY helpful. And for me, very gratifying. (I immediately sent clips from the report to the board so they could be glad about the budget they had set for my salary. I won't say where I was in the stack. I'll only say it was extremely helpful to have this report — and it's broken down by organizational size (number of people for whom you're responsible). I bet some of you will experience something similar. Who knows – you might even use it as justification to ask for that raise for which you've been praying! : ) ) Well played, Missio Nexus. Thank you — again.
missionexus.org/senior-leader-compensation-study-2019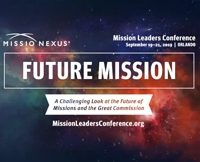 Missio Nexus has made it easy to get to know the main session presenters and all the workshop leaders too. Just click the "biography" or "plus sign" beside each and you'll learn more about each personality and backdrop.
missionexus.org/future-mission/future-mission-speakers/
Of course, let's be honest: One of the *major* reasons of going to Missio Nexus's "Future Mission" Mission Leaders Conference is also to network with all the agency leaders and workers in the hallways, too. Those are the unsung heroes who don't appear on this webpage but still help make the event special. Sept. 19-21, Orlando. Hope you'll pencil it in today.
Try this one…
It's short, sweet, and oh-so-focused.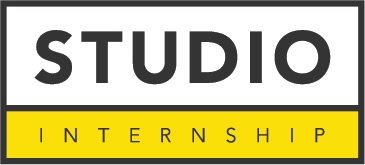 Registrations are being accepted for the Fall cohort of Studio Internship. Studio is a 3-month training experience for cross-cultural workers headed to the Muslim world. Emphasizing both hands-on outreach and practical training, Studio is for those eager for preparation in resilience and fruitfulness. Veteran field workers will coach and mentor you as you apply your learning in our community of practice. For information go to…
or write:
info
studioteam
org (info
studioteam
org)
Extraordinary prayer doesn't come by accident. It's not something we stumble upon. It's something we have to seek. Joshua Project has helped us stir hearts with their new little 3-minute video at…
Would you consider showing it at one of your upcoming worship services? Then follow it with 2 minutes of guided prayer from the platform, followed by small group prayer in your congregation or org, perhaps for another 3 or 4 minutes after that? Yes, the entire deal will soak up 10 minutes of your sermon time but, hey — preach on "prayer around the block and around the world" and this can be your application time — and you're already 1/3 of the way finished! : )  (Thanks for the video, Joshua Project.)
Howard Culbertson, Emeritus Professor of missions and world evangelism, once wrote a great piece on how, "Ten Ways to Avoid Becoming a Missionary." We think you'll find them entertaining. : )
*** 1) Ignore Jesus' request in John 4:35 that we take a long hard look at the fields. Seeing the needs of people can be depressing and very unsettling. It could lead to genuine missionary concern.
(John 4:35 "Do you not say, `Four months more and then the harvest'? I tell you, open your eyes and look at the fields! They are ripe for harvest."
*** 2) Focus your energies on socially legitimate targets. Go after a bigger salary. Focus on getting a job promotion, a bigger home, a more luxurious car, or future financial security. Along the way, run up some big credit card debts.
*** 3) Get married to somebody who thinks the "Great Commission" is what your employer gives you after you make a big sale. After marriage, embrace the socially-accepted norms of settling down, establishing a respectable career trajectory and raising a picture-perfect family.
*** 4) Stay away from missionaries. Their testimonies can be disturbing. The situations they describe will distract you from embracing whole-heartedly the materialistic lifestyle of your home country.
*** 5) If you happen to think about missions, restrict your attention to countries where it's impossible to openly do missionary work. Think only about North Korea, Saudi Arabia, China and other closed countries. Forget the vast areas of our globe open to missionaries. Never, never listen to talk about creative access countries.
*** 6) Think how bad a missionary you would be based on your own past failures. It is unreasonable to expect you will ever be any better. Don't even think about Moses, David, Jonah, Peter or Mark, all of whom overcame failures.
*** 7) Always imagine missionaries as talented, super-spiritual people who stand on lofty pedestals. Maintaining this image of missionaries will heighten your own sense of inadequacy. Convincing yourself that God does not use ordinary people as missionaries will smother any guilt you may feel about refusing to even listen for a call from God.
*** 8) Agree with the people who tell you that you are indispensable where you are. Listen when they tell you that your local church or home country can't do without you.
*** 9) Worry incessantly about money.
*** 10) If you still feel you must go, go out right away without any preparation or training. You'll soon be home again and no one can ever blame you for not trying!
Do you know someone who relies on — or did you previously rely on — any of these approaches?
Why? Because it would just… be… WRONG to do so. At least that's what a new Barna poll found. In spite of feeling equipped to do so, nearly half of them won't – because they think it's wrong to share one's personal beliefs with someone of a different faith in hopes that they will one day share the same faith. Sounds like they grew up watching Star Trek re-runs and they're afraid of violating the "Prime Directive" or something. See the Barna summary here…
www.barna.com/research/millennials-oppose-evangelism
Not sure how we fix this. Somehow, though, if we're going to win the world with the help of the upcoming generations, we'll have to remind them that Jesus gave a prime directive too. And that He's the one who made them. (Thanks for pointing us to a new story about this, Tim!)
Curious about where we are in the status of the Gospel? Wondering where we need to go next? Wondering if we're taking UPG and UUPG people groups off the maps? Want more innovation in missions? Want to learn more about mission strategies and structures? Would you like to hear about some unique opportunities? Wondering how in the world we'll raise up the next generation of missionaries? These topics and more are the subject of a free (free to all) webinar being staged by Missio Nexus on March 13th, 9 am Pacific/10 am Mountain / 11 am Central/ 12 pm Eastern time in the USA. Take note: This webinar is open to mission leaders, church mission teams, missionaries, and anyone interested in global missions. There is no exclusivity whatsoever. In fact, you don't even have to be a member of Missio Nexus to listen in. It's free. It's virtual. There are no meals to buy, no airfares to suck up your treasury, and no excuses. Just pure and simple answers. Trends. And more. It all starts here:
missionexus.org/onmission-2019-registration/
(Thanks for drawing our attention to this, Debra!)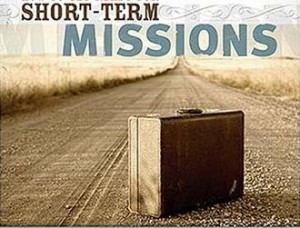 Canadians were asked that question recently. The results might surprise you. The Evangelical Fellowship of Canada asked 3400 evangelicals what would be the main purpose of short-term mission trips. Some 75% said — "for discipleship." Who knew!? In your opinion, how might this affect the ability of the short-term team to contribute to work on the field? Have you seen this same leaning in the trips you've hosted or in which you've taken part, or in those you've led? Please click "Comment" following the web or app version of this item. You can download the entire report here:
https://brigada.org/wp-content/uploads/2018/01/2017-01-17-Canadian-Evangelicals-and-Short-Term-Missions.pdf
If so, maybe "Focus Missions" is for you. They provide enterprise level mission trip management, helping you find and book airfares, sign travel documents, fundraise, communicate with your short-term teams, obtain background checks, automate application work flows, verify references, AND track finances to the tiniest detail. Check them out at…
http://www.focusministry.com/missions/
For all these services, they receive $20/month per active trip (a trip that is accepting applications, payments or traveling).