Perhaps you've heard that, over the years, Radius has created some doubt in the minds of some American ministries and churches as to whether Disciple Making Movements really create healthy churches and Christians. The Missions Podcast has been sympathetic to that perspective. A few weeks ago, they decided to do a podcast with a DMM advocate. They chose Glenn Sunshine to do the interview because of his strong historical and theological background. We believe you will find it interesting. Hear it at…
missionspodcast.com/podcast/disciple-making-movements-a-critical-discussion-with-dr-glenn-sunshine/
or wherever you get your podcasts by choosing the "Missions Podcast."
Now you can see the Gospels from a whole new light. The Lumo Project is redefining the standard of biblical media, offering a new and visual translation of the four Gospels. This version will truly engage you and yours with scripture and media. LUMO is available on the YouVersion Bible App in the following 23 languages: Afrikaans, Arabic, Cantonese, Danish, Dutch, English, Finnish, French, German, Hindi, Italian, Korean, Norwegian, Polish, Portuguese, Russian, Spanish, Swahili, Swedish, Tagalog, Thai, Turkish, and Vietnamese. In addition, hear it at:
live.bible.is/bible/ENGNIV/MRK/1?audio_type=audio
Learn more on YouTube at…
www.youtube.com/thelumoproject
(Thanks for the tip, Ken!)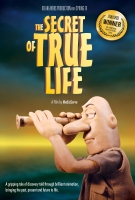 Awarded Best Short at Christian Film events in the USA and Britain, this is a gripping tale of discovery told through brilliant animation. This 26-minute gospel resource is now in 17 languages, including Arabic, Chinese, Spanish, and major Indian languages. Check it out at…
Stream free of charge to your phone or computer. High resolution files for TV use, etc, are available upon request. Write to…
film
secretoftruelife
com (film
secretoftruelife
com)
If you work in Media to Movements, you know how important – and difficult – building a follow-up coalition can be. Join this free one-hour online event on Tuesday, November 5, at 8 AM Pacific. Two experts will be sharing their lessons learned from coalition-building in restrictive environments in North Africa and Asia. Learn more and register at
www.visualstory.org/followup-coalition/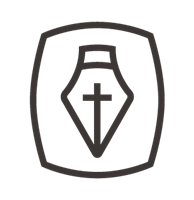 "A Simple Word" helps people understand the Bible. Written in Simple English so that the largest number of people can read, understand and translate it. "Simple Truths" contains 144 Questions and Answers of important truths about knowing God and following Jesus (translated into other languages – see "Downloads" on site). "Travel Guide to the Bible" provides a basic introduction to each book of the Bible. These resources and much more (in lots of languages) are available at…
Didasko Academy recently added video subtitles in 20 languages to their free online video-based missions courses. A full list of languages can be found here:
www.dasko.org/courses/multiple-languages
Didasko Academy focusses on training missionaries to reach the UPGs. Course include:
* The Bible and Missions.
* Discipling the Nations.
* Roles in Frontier Missions.
Courses are self-paced, and can be done individually or in facilitated groups.
Got to say — this looks like awesome stuff. And can it be that this training is free — and that donors can pitch in toward the cost if they want? Whoa. Great stuff.
We all know that many active military soldiers and support staff need to be reached with the gospel. Also, military personnel go through many physical, emotional, and spiritual challenges. For this reason, Military Outreach Christian Resources has resources for active-duty military. You may find on this website links to Bibles, articles, audio, dvds, tracts, discipleship, church planting, devotionals, mentoring, podcasts, evangelism, Bible studies, small groups, and more.
Please visit
to learn how you can help soldiers find a future in Christ.
Understand the importance – and urgency – of story for ministry effectiveness. Learn how to tell a great story to reach and teach people for Christ. Mission Media U is offering its five-week online mentored experience for you and your team. Visit:
http://www.missionmediau.org/courses/story-in-ministry/
to find course details, instructor and mentor bio, and comments from previous students. The course runs Sept.18-Oct.16.
John Hendee has been winning people to Christ for his entire life. Now, he's offering to take you on his next training trip to equip you so that you'll, in turn, be able to train others. He'll take you on an 8-day trip during which he'll teach you how to train others, while you're doing the training. The curriculum is "It's All About Relationship." Learn more at…
www.itsallaboutrelationship.org/
He'll take you to a place like Kenya, Uganda, Cameroon, Nigeria, Zimbabwe, Tanzania, Ethiopia, Sudan, Egypt, India, Mexico, Peru, Ecuador, Chile, Philippines, Ukraine, or Poland. John will help you learn to make a global impact for years to come. To learn more, write him on the contact form at…
www.itsallaboutrelationship.org/contact-us.html
Harvestime International Institute is web-based TEE training that is very easy for churches to implement in-house. Subjects only cost $7 each, the content is free, students only pay to do the online exams. HII is a 21 subject, two-year course resulting in an Associate Degree in Biblical Ministries. It's designed for churches and individuals in the Majority World and has an emphasis on practical evangelism and church-planting. In addition to all that, it's even mobile-friendly. Learn more at…
or email
johned
cybermissions
org (johned
cybermissions
org)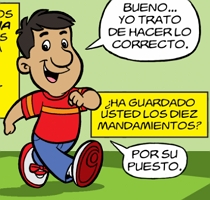 Christian Comic Tracts is a website where you may read illustrated or comic style tracts and booklets online in hundreds of languages. Most of the tracts and booklets are evangelistic in nature. You could share this site with those who speak different languages around the world — even with children (of all ages). Check it out at…
We're guessing you've already seen…
and/or
Over the past couple of weeks, I've been getting to know some of the people behind these sites. It's actually rather amazing to see the deep-seated passion for Christ merged with tactical skill and vision. So what's your take on what they're creating? Can you imagine the day when we can take this kind of thing globally? Whoa. Give us your take. Can anyone see any possible downside in this? Can you briefly tell us a success story in using one of these tools at your church, outreach or org?
This past month, while traveling among 11 very unreached people groups in a Muslim West African nation, a couple of church leaders and I (Doug) studied a movement that is beginning to spread like wildfire across the plains. We met with some of the movement's leaders to try to discover what's powering it. One of them put it this way: Speaking of the power of prayer, he quipped, "We never have to make a cold call." His point was simply this: By investing most of their time in prayer for their neighbors (both near and far), they are seeing God go before them in everything they do. One gentleman — we'll call him Ibrahim — told a story about a man who recently knocked on his door, literally asking, "Can you tell me why I felt such a strong compulsion to come and knock on your door? Is there something you're supposed to tell me?" Ibrahim assured the visitor that, yes, most definitely, there was a particular story that the visitor was supposed to hear. A few days later, Ibrahim baptized the new believer in Christ. When we pray, heaven fights our battles for us. We have the benefit of "high ground." We never have to make a cold call again.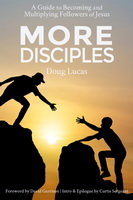 You can find it at…
https://www.amazon.com/More-Disciples-Becoming-Multiplying-Followers/dp/1939124166
or just search "More Disciples on Amazon" to find it from your favorite search engine. More Disciples is written by Doug Lucas, with Introduction and Epilogue by Curtis Sergeant and Foreword by David Garrison. The Kindle version has Worldwide enabled and also comes with enhanced typesetting. Page Flip is enabled and you can also read it on Kindle Unlimited, if you're a subscriber. What's more, if you've already purchased the print version, you can pick up the Kindle version for just 99 cents. One reviewer (L.E.) wrote, "This thorough yet easy read is the one book you need to understand and participate in a disciple-making movement (DMM). Of course it is God who works on hearts and draws people to Himself, but this book is a handy tool for being part of what God is doing in the world and making His name known among the nations." Chris Galanos is author of From Megachurch to Multiplication: A Church's Journey Toward Movement. He wrote, "More Disciples is a must-read for every Christian! Making more disciples is the mission that Jesus left us with and should be a major focus of our lives. Doug does a great job articulating how every Christian can be a fruitful disciple-maker. Perhaps you question if God really can use you to make more disciples. Perhaps you assume that only pastors and missionaries can make more disciples. That couldn't be further from the truth. This book will set you on fire as you realize that God not only CAN use you but WANTS to use you to make many more disciples!" Now, with the Kindle version available, you can take More Disciples with you in an encrypted folder on your hard drive to be a companion in your multiplication journey.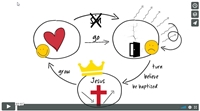 The book, More Disciples, trains readers how to share the 3 Circles Life Conversation (originally developed by Family Church in West Palm Beach, Florida) on page 118-122. In frame-by-frame storyboards, the book helps readers easily learn to share the Good News using this readily-adapted format. See More Disciples here…
https://www.amazon.com/More-Disciples-Becoming-Multiplying-Followers/dp/1939124166
You can watch a video version of this colorful 3 Circles presentation online at…