Create International and the Visual Story Network are thrilled to host the 2020 Visual Media Strategy Forum Mar. 28th-29th in Chiang Mai, Thailand. They believe that these few days of focused collaboration will result in continued partnerships for bringing the knowledge of the glory of God to many who still have not heard. Register now for your place at this milestone moment at: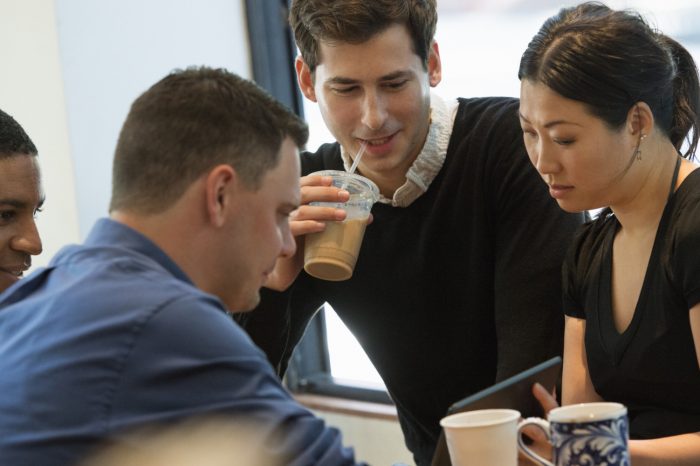 A four-day debriefing retreat designed especially for global servants engaged in cross-cultural ministry, Interlude provides space to reflect, process, and tell your story to experienced, trained debriefers as well as a small group of your peers. The conference is a ministry of Barnabas International. Here are Interlude Dates and Locations for 2020:
January 6–10 – Jacksonville, FL
June 15–19 – Plymouth, IN
July 27–31 – Tulsa, OK
For more information go to:
EdenRidge is a missionary-focused retreat and vacation destination located on the Cumberland Plateau in East Tennessee. The ministry welcomes missionaries and Christian workers from around the world and offers six cabins of various sizes. Construction is underway for the Welcome Center, which will open next summer and feature spaces for meetings, groups, and family reunions. To learn more about EdenRidge or to make reservations, just visit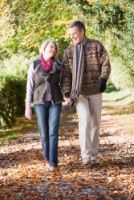 ALONGSIDE is a professional counseling ministry in a retreat format for missionaries and pastors who desire renewal and restoration. ALONGSIDE offers 3-week programs designed to meet the spiritual and emotional needs of leaders who find themselves in a difficult season. ALONGSIDE has been caring for Christian leaders since 2000 and in January 2020, are expanding programs for one session only to Chapel Hill, NC. Visit
for more information.
Here's an event at which cross-cultural missionaries can get coaching, care and regain momentum in beautiful Borneo. Mornings will consist of worship and relevant renewal discussion, with afternoons filled by participants meeting with counselors for input, coaching, listening, prayer, etc. at their own discretion or they may choose to spend time alone with God exploring the island. Leave feeling healthy and effective.
Find out more at
fieldlife.org/retreats/momentum/
or email
macgregor
fieldlife
org (macgregor
fieldlife
org)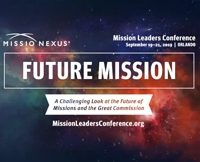 All the media from the main sessions can be found at…
missionexus.org/future-mission/future-mission-media/
Hear James Kelly on Innovation in Missions, Ed Stetzer on The Post-Missions Age, Andrew and Norine Brunson participated in a live Q&A, K.A. Ellis on The Future of Persecution, Prashan De Visser on Engaging the Next Generation, and many more.
Now, in a four-hour "DMM/Zúme Experience," you can come away with a much deeper understanding of disciple-making movement (DMM) strategies and life practices AND learn about Zúme at the same time. (Zúme is a 10-session, 20-hour online and in-life experience designed to help your group learn and DO fruitful strategies that might lead to a disciple-making movement (DMM) in your own church, town, and region. In this "live training" experience, you get a 'taste of DMM" in just four hours. Instructors include Frank S. (a lifetime worker in SE Asia), Curtis Sergeant (author of "The Only One" and portions of "More Disciples"), Doug Lucas (author of "More Disciples"), Eric D, and others. You'll love how practical and biblical the whole approach is. Plus, you'll get a free hot breakfast! : ) The venue is just a block away from the Kansas City Convention Center (Grace and Holy Trinity Cathedral located at 415 West 13th Street, Kansas City, MO 64105), 8am to 12 noon on Thursday, November 14, 2019 (a buffet breakfast will be served). Learn more and sign up at….
This workshop is timed to coincide with the start-up of the International Conference on Missions (ICOM), which begins Thursday evening, Nov. 14th, at the Kansas City Convention Center. So you can come to the DMM Experience then stay for a day or two of ICOM while you're there.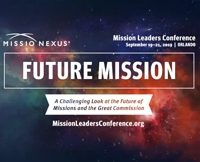 Didn't make it to Florida last week for the Missio Nexus "Future" conference? Did you make it, but Ed Stetzer talked too quickly and said too many important things for you to write everything down? There's hope and help. It's all located at…
missionexus.org/future-mission/future-mission-media/
Most sessions were recorded. All you have to do is join. Just listening to all these sessions is worth the price of admission. It was a fantastic conference loaded with tons of helpful material. You'll be glad — even if you have to attend "virtually." Thanks Missio Nexus!
This online course is designed for field workers, missions media practitioners, and leaders. The five-week mentored course with Keith Williams of Mobile Advance starts October 29. Get more information and registration at
www.missionmediau.org/mobiles-in-mission/
Qualifying students are eligible for a one third tuition discount in a Masters or Ph.D. program at Biola University's Cook School of Intercultural Studies.
CareCon is a five-day conference designed by the Frontiers USA Member Care Team for pastors, church staff, family members, ministry partners, and anyone who wants to support global workers. This conference will help you: prioritize the most fruitful care strategies, gain fresh ideas as you network and interact with other church and missions leaders, and build better relationships with your workers. It's slated for Mesa, AZ, April 27 – May 1, 2020. You can learn more at…
CMI's Foundational Coaching Skills training program is the starting place in CMI and will open the door to their advanced training modules and your future in Coaching. They had live workshops planned in Chiang Mai, Thailand during 2020 beginning February 10-14. There's also a Teleclass that starst October 9, 2019. The language is English. Learn more at …
Do you sense God calling you to serve overseas? Do you long to see Muslims follow Jesus Christ? Do you have what it takes? They can help you get there! This three-day intensive is designed to impart practical missional skills. Learn how to communicate the love of Jesus with your Muslim friends and begin a lifestyle of discipleship. They stage events in multiple locations. For more info, visit …
In June, we got to hear Steve Addison, author of "The Rise and Fall of Movements." Now the book is a tour! : ) If you can get to the USA, you can find out how close he'll be to you by clicking to…
Watch his video on that page to learn more. His book is worth the read. Sometimes, the way you go INTO a movement can affect the way you come OUT!
Is interrogation or kidnapping a real concern in your area of the world? This training will help you avoid it, or get through it without compromising your integrity or the safety of others. It's being staged by Fort Sherman Academy, but will take place in San Diego, CA, November 18-20, 2019, 9am-5pm. The cost is $700. For more info write: info
interculturalstudio
org (info
interculturalstudio
org) . Register at:
www.surveymonkey.com/r/Fa19Security
Take time to process and unpack your cross-cultural experience in a refreshing environment with an experienced team. TRAIN International's next re-entry debriefing is October 20-25, with nine debriefings for 2020. Their ABIDE debriefing in Joplin, MO, offers time and space to process, and is for your whole family, as TRAIN provides age-appropriate TCK debriefing for ages 0-17. Gain perspective, get equipped to navigate the challenges of re-entry and move forward in renewal toward your next season of ministry! Check out their website to learn more at:
At their latest debrief, 35 workers came together to process and plan. Several were Team Expansion workers. These guys are the real deal. You won't go wrong at TRAIN.