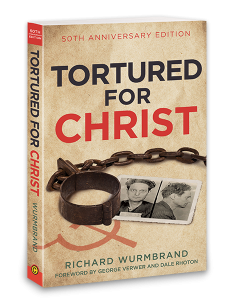 He served 14 years in a Communist prison. Now, a new movie will help you re-live the story — AND those who attend the movie will receive a special copy of the book about Pastor Wurmbrand's life. Learn more at…
https://www.torturedforchrist.com
The movie is showing for one night only in major cities around the USA (world?) You will have to reserve tickets in advance. See the site for more information about how to do that, along with instructions about how to help bring the movie to a city closer to you. If you'd like to hear more about Pastor Wurmbrand's testimony but you can't go on March 5th to one of these cities, you can watch a special 30-minute cartoon retelling of his life in a version that came out in 2009 here:
https://www.youtube.com/watch?v=SYpIXkPr9mg
(with Sinhala subtitles). Richard Wurmbrand was subsequently the founder of Voice of the Martyrs. A portion of the price for every ticket will go to help them help those who are being persecuted.