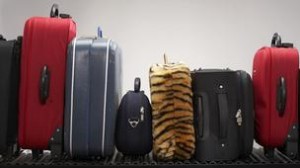 Okay. I'll admit it: This is a shameless request for a personal favor. I'm searching for the perfect carry-on for domestic and international travel. Brigada's audience numbers in the thousands and I figure most of us travel more than we'd like to admit. So I'm thinking… what better audience in the whole world to ask for input on one of life's toughest questions: What's the perfect carry-on for domestic and international travel? Here are my criteria (I recognize some are very personal):
" It simply HAS to fit in overhead compartments — without cutting corners; doesn't need to be checked (never, never check luggage)
" Lightweight
" Has built-in wheels
" "Garment bag" hang-up space for (at least) 4 button-up shirts and 1 pair of pants
" The entire bag will hang up from one nail, creating a kind of workstation I can "live out of" during my typical week-long visit
" Easy access from the outside so that TSA clear bag of liquids
" A large, open cavity for packing socks, underwear, t-shirts, etc.
" Space for a laptop if I want to reduce to just one carry-on
" Extra points if it has lots of cool compartments and pockets for smaller items.
" Not so expensive that it makes me feel guilty for purchasing it.
So there you have it. Ten items. That's all. How can it be that difficult. In the mid-80's, I used a Samsonite garment bag for a while. It didn't have rollers, but it was a trifold with a cavity in the middle and it would hang from one hang-up point and unfold in the coolest "workstation" design ever. Who let them stop making that bag? I can't even find a picture of it these days. Either way, surely someone else would like a bag like this. Please help us find it. If you succeed, may God bless you in a mighty way. :-) Just click "Comment" following the web version of this item so all readers can look at your suggestions. Thanks in advance for any help you can give.