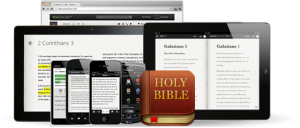 To us, it makes sense to carry a printed Bible when on a trip for His Name's Sake, even though there are a host of great Bible apps for our smartphones and other digitally connected devices. Why? What if the power goes out for an entire day and the batteries on your laptop and phone tucker out? Besides, I'm convinced that in some contexts, it still just looks WEIRD to teach or share the gospel using a phone or laptop Bible, especially in some contexts. So we recommend the thinnest NT/OT you can find (with print you can still read). It's probably best to visit a Bible bookstore for this purchase, but as a rule of thumb, the NIV Thinline Bible seems to be a good compromise for font size and packing size. See a sample here…
http://www.amazon.com/NIV-Thinline-Bible-Compact-Zondervan/dp/0310435501
If you're looking for an app, we've featured dozens over the years in Brigada. For research and lesson/sermon prep, pretty much everybody compares their app to the granddaddy of them all, Logos, at…
[truth in advertising: if you buy a Logos product at this page, you save 15%, but Logos also will make a gift to Brigada. Having said that, our opinion still stands: It's still the one to which everybody else compares.] Nothing seems to compare with the depth and breadth of Logos offerings.
But sometimes you might now WANT that much depth. If you have an ultrabook laptop, for example, Logos' 15 gigs (plus) might be overkill. In these cases, throughout the years, we've noticed a consistent interest in the Laridian line of Bibles. See their features at…
By going with a product like Laridian, you can still keep your purchases across multiple platforms. That is to say, the Bible version you purchase for your laptop can also be available on your phone. Another advantage of Laridian and similar class Bible apps: They're just faster, sometimes, than opening up a giant application like Logos.
Of course, you might find that the YouVersion app at…
might be enough for you. Around 165 million users have made that decision by installing the app on their own devices. Over 1000 versions are available in 779 languages. In addition, some still haven't noticed that YouVersion now offers several Bible versions for offline reading too. Learn more at…
http://blog.youversion.com/2013/09/now-available-offline-niv-other-versions-from-biblica/