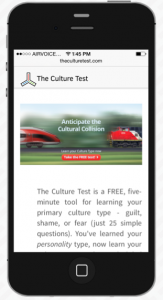 The Culture Test is a free, five-minute tool (just 25 simple questions) for learning your group's primary culture type: guilt, shame, or fear. It is like a personality test, but for cultures instead of individuals. You know your personality type, now learn your culture type so you can engage and bless global cultures with the good news!
The Culture Test is mobile-friendly, so is a useful tool for ministry training. Learners can easily complete it on their smart phone during your lesson. A group discussion guide is also available.
http://honorshame.com/wp-content/uploads/2014/11/Group-Discussion-Guide-TheCultureTest-v2.pdf
Are you doing cultural research? Answer the questions with locals to learn more about your host culture.