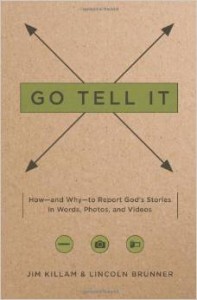 Great stories are happening everywhere in the mission field and around the world. Sometimes these stories hit their mark, but more often than not these stories of God at work often stay hidden, are told ineffectively, or miss their audience completely. Now, in their new book, "Go Tell It," Jim Killam and Lincoln Brunner gives practical tips for how to "report" on what God is doing around the world.
http://www.amazon.com/gp/product/0802411487/ref=as_li_tl?ie=UTF8&camp=1789&creative=390957&creativeASIN=0802411487&linkCode=as2&tag=teamexpansiononl&linkId=TYH7XMTPT3ERK62A
The authors write with a special eye for the Christian missions world to help bloggers, missionaries, and world-travelers report stories of God's work around the globe. From fundraising to newsletters to "Missions Sunday" presentations and everywhere in between, this book will help energize the church for the Great Commission.
Read an excerpt at:
http://moodycollective.com/go-tell-it/
(Thanks for the tip, Natalie!)