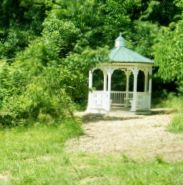 This coming Saturday, a crew from Indianapolis is volunteering at Emerald Hills (Louisville, KY) to build a gazebo-like structure as a symbol of Brigada's ongoing commitment for the development of prayer, mobilization, and partnership to reach unreached peoples. Over the last few years, a total of $14,900 has been gifted to Emerald Hills toward the training of cross-cultural workers to travel to unreached peoples. The total commitment behind the construction of these Project 29 Prayer Shelters is $24,000, meaning that we still have $9,100 to go. If you — or someone you know — might be willing to contribute (this week, or at any time in the future) toward the construction of this prayer shelter, small gift or large, just navigate to
then click "Donate" in the upper right and follow the instructions. By the way, you don't need a PayPal account to give. If you reach a screen asking for your PayPal I.D., look on the left side of the screen, about halfway down, and find the prompt which says, "Continue without a PayPal Account." Be sure to mark in the comment blank (or just send an email to DLucas@TeamExpansion.org identifying the purpose of the gift you just made).
If you'd rather send an old-fashioned check, just make it payable to Team Expansion and send it to:
Team Expansion (Brigada Prayer Shelter)
13711 Willow Reed Dr.,
Louisville, KY 40299
USA
(And by the way, Team Expansion is a 501(c)3 incorporation so for USA citizens, your checks made out to Team Expansion are tax-deductible.) We appreciate you!