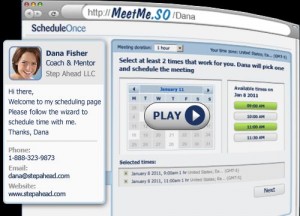 Catch that word, "Free," but even their paid plans are fairly affordable. Either way, ScheduleOnce recently released a major upgrade to the ScheduleOnce service that turns ScheduleOnce into your go to application for all personal scheduling needs. With this new release, every user gets their own MeetMe page where people can see their availability and easily schedule time with them. The MeetMe page can be used to schedule Appointments, One on one meetings, Activities and Group meetings.  Watch this quick video to learn more:
http://www.youtube.com/watch?v=4I7pR5vYe1Q
To get started, go to
and signup with your Google or Facebook ID – ScheduleOnce has a great entry-level free plan and no registration is required!