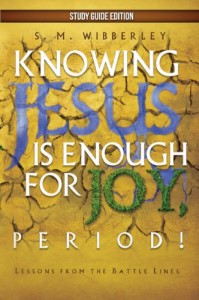 Useful for member care, discipleship and personal growth, it contains biblical lessons learned in 30 years of outreach in a tough Musl*m context. The book, Knowing jesus is Enough for Joy, Period! includes chapters on spiritual warfare (a bit differently presented), 4 types of faith, transforming worship, confessing in layers, journaling, discerning motives, nurturing our first love for Jesus and mediation. It is both biblical and very practical with lots of real life illustrations.  From a reader in Uzbk-stan "I am currently reading through the book you wrote. I am being blessed by it tremendously. It is on my 'read it again and again' book list." The book is available in paperback and ebook (Kindle, Epub and PDF formats) from:
http://www.knowingjesusisenoughforjoy.com
It is also available on Amazon and Barnes & Noble.
Author will contribute $1 to Brigada for each book bought by Brigada readers from the above web site. (Thanks Steve!!)