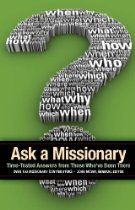 Billed as "Time-Tested Answers from Those Who've Been There," this book by over 100 missionaries will give clarity and answers for a journey into missions. Hear from folks like Elisabeth Elliot, George Verwer, Phyllis Kilbourn, and Bill Stearns, as they share their insightful wisdom and practical advice on everything from making the decision to go, to stepping into a new culture, and everything in between.
*** How can I know if God is leading me to become a missionary?
*** How do I select a mission organization?
*** What type of academic or practical training should I consider?
*** How will I be funded?
To order visit