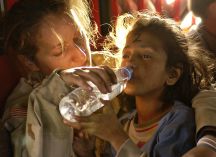 Not that long ago, we featured a survey being carried out on the Humanitarian Worker Wellness Inventory (HWWI). See the original item at:
https://brigada.org/2010/01/31_3936
The purpose of the research project was to adapt as an assessment and provide psychometric validity information for Dr. Keckler's Comprehensive Missionary Wellness Model. The principle of the HWWI is that one can use it for well staff rather than simply a tool to use when problems surface.  Although more follow-up research is needed, the HWWI did turn out to be a verified tool — one that you can put to use today in visits with your humanitarian aid staff workers. If you'd like to read the executive summary, download and open this PDF:
https://brigada.org/today/articles/wellness_inventory.pdf
Also, if you end up building on his research at all, please contact him via the website he has set up at…
https://myprojectincubator.com
Thanks for following up with us Phil!