We're not sure how or why Homeschool Panda is free. It provides for lesson planning, budgeting, calendaring, task management and assignments, connecting with other homeschoolers in your area, and much more. They have gone on record saying security is their top priority. You can work from a web interface or use the app for android or iOS. What's more, they're constantly rolling out new features. Maybe they're thinking that, once they build a huge following, they'll introduce ads or sell the app someday? Who knows. What we DO know is that, for now, it's completely free of charge. If you or your missionary workers are doing home school, this is the go-to app to check out for your kids — and you.
PicPick is a free (for personal use), all-in-one design tool for everybody who uses Windows. It features a full-featured screen capture tool, an intuitive image editor, a color picker, a color palette, a pixel-ruler, a protractor, a crosshair, a whiteboard and more. You can capture anything, edit your images, enhance them with effects, share them, create mosaics in the faces of people you need to obscure (because they work in sensitive lands). And to top it all off, it's free. We've needed this. We've been looking for it for years. Now it's here.
Have you been seeing these new "HEIC" images lately? Nothing on your laptop will open them? They seem to have come about, in part, from a new iPhone iOS upgrade. If you need an app to convert them (for free) on your laptop, just head on over to…
You'll find exactly what you need — with no spam, no trash built in, and totally for free. Thanks imazing!
Granted, it's $9.99. But the results are astounding. If you're an iPad user, you probably ought to at least have a look at this app. Said to be the most powerful sketching, painting, and illustration app ever designed for a mobile device, this app is built for creative professionals. Check it out at…
itunes.apple.com/us/app/procreate/id425073498?mt=8
(Thanks Gloria!)
Thanks to all those who commented and interacted about the best task management app last week. After much thought, I'm going to give Todoist another try. Why? First, because it works offline. After a month in which I spent quite a bit of time overseas, out of wi-fi range, I became more convinced than ever that it was no longer possible for me to track my to do list in an app that required internet connectivity to function. Second, it contains an effective tagging system. Tagging is clutch because of the way it cuts across all other organizational paradigms (like projects, subtask hierarchy, dates, and more). Third, it's fast. Fourth, it's multi-device, real-time, not only with my phone and with a Windows desktop app, but also a webpage as well. Finally, it's affordable. If you're looking for a great task management tracker, try Todoist today.
After looking at the comparison at…
www.onlyoffice.com/best-microsoft-office-alternative.aspx
We're trying to figure out why we wouldn't use this app as our main way to create and view documents, spreadsheets, and presentations. Their desktop version seems solid (and, in some ways, a lot clearer?). And their cloud version can be free for qualifying nonprofits. And it's open source, right? So we can see the security holes (if there are any), right? And wow — the price is great (free for the desktop version; free for the cloud version for qualifying nonprofits). Can someone click "comment" below this item and tell us why we shouldn't invest in this rather than corporate alternatives?
Logos Bible Software has released their newest version, Logos 8, and now you can get it for free with Logos Basic. Get it free at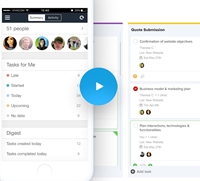 Teamwork Project Management Software owns a GREAT home URL. It is simply…
Over the past year, this Irish software development company has distinguished itself at finding what could be a great financial approach to helping organizations, churches, and companies afford software designed to help them keep track of projects, milestones, goals, and the people who make them happen. Their project management software includes a "free forever" trial (limited to two projects and 100 megs of stored files), and a decently-priced pro version (essentially $45/month for 50 users, 300 projects, and 100 gigs). What we miss when we evaluate Teamwork, however, is that both of these levels (the "free forever" AND the pro version) can accommodate an unlimited number of collaborators across an unlimited amount of time. The company offers its software on the web, as well as via apps that are available for virtually every type of device, including iOS, Android, Mac, and Windows PC. It's definitely worth the look. What's YOUR opinion on project managers like these? Click Comment following the web version of this item to share your voice about whether or not these project managers hold out any hope to track disciple-making and church multiplication.
There was a time when we all thought we were supposed to use a VPN. Could the Tor Browser be the next generation of security? I have to admit, it's a bit scary at first blush. The prospects of my communication bouncing around the computers of countless volunteers around the world doesn't sound a bit secure to me. But after a grad student working on his doctorate in political science told me I should take a look, I did. See for yourself at…
www.torproject.org/projects/torbrowser.html.en
I had thought this "Tor" deal was mainly for the dark web. But as I checked into it more and more, I discovered that the very components attracting terrorists and drug dealers (the anonymous nature of Tor) were the same components attracting LOTS of people who just want general minimum web security. Think of Tor as a kind of "bit coin" view of the web. Tor prevents sites from discovering your physical location, your identity, and your web browsing habits. In 1 minute or so, you can learn how it works by watching this brief video:
https://www.youtube.com/watch?v=6czcc1gZ7Ak
What's YOUR opinion of Tor? Any I.T. professionals willing to weigh in with a comment? You can do so anonymously, whether you're browsing via Tor or not. : ) Just click Comment following the web version of this item. Thanks in advance for sharing! (Thanks for suggesting that we look into this, Caleb! : ) )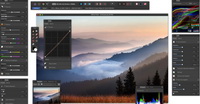 Thanks tons to Ed for pointing us to Affinity Designer. Yes, it's currently available only for Mac, but for all the Windows users out there, the writers say a Windows beta is just weeks away. (You can sign up to be notified.) The great part is — it's not a 'subscription-based' deal. Pay $50. Own it. For good. Love it. Looks like one of the most powerful photo-editing tools we've seen, but, then, we don't use Mac — so you'll have to verify in the comments following this post in the web version – please.