Just say…
Alexa open worship twenty four seven
and … "bam!" Feel the Christian beat.
Written by workers in Southeast Asia, sung by Nashville musician, "Hetty," you can rest in the sounds of the opening line, "Greater is He…" today at…
https://www.youtube.com/watch?v=7wndGyx5nzY
(Thanks for making this happen, Jonathan!!!)
Worship has (rightfully) become a key component for today's mission trips, vision trips, and prayer journeys. The trouble is, many worship leaders just bring a handful of their normal stuff. There's nothing wrong with that, but what if we're missing the boat on stuff that's really good for mission trips in particular? So, for 100 points :-) (and the opportunity to help a brother or sister who is about to head for the bush), would you 'Comment' your favorite mission trip songs? In this week's Brigada Today (in all the "even" items), we provide some samplers to get you started, making this Brigada Today a Special Missions Music Video Edition:
Live Like That – Sidewalk Prophets

The members of the group, Casting Crowns, seem to have the answer to that question figured out, at least for their own lives, that is. Learn more about them at…
http://castingcrowns.com/
You've probably heard their tunes, but what you might NOT have heard is that, all the while they've been churning out the music, they've kept their jobs serving their local churches. The stuff they sing about is the stuff they've taught about in real youth group meetings and student home Bible studies. And if you've ever read Matthew 24, you know why they wrote, "Until the Whole World Hears." Listen to the songwriter's intro of it here…
http://youtu.be/PD_1CAt3dEI?t=2m32s
Now listen to the whole song with new insight:
Until the Whole World Hears — Casting Crowns

Here's a Five-Day Course on Multicultural Worship, Arts, and Mission (May 16-20, 2011). Are you interested in developing a biblical and missiological framework for the arts in cross-cultural worship and ministry? Want to learn field research skills for the arts? Trying to gain practical tools for multicultural congregational contexts? Want to learn songs from a variety of world worship traditions? A collaborative team of experts from the Int'l Council of Ethnodoxologists (ICE) will teach a course in "Ethnodoxology in Christian Ministry" at Ouachita Baptist University (OBU), located in Arkadelphia, Arkansas, USA. The course is being offered for undergraduate and graduate credit as well as a workshop option for people in full-time ministry. An on-campus housing-and-meals package is available for participants. For more information, write to Dr. Rob at
hewellr
obu
edu or go to:
http://plaza.obu.edu/hewellr/EdoxRegister.pdf
To learn more about other EthnoArts and ethnodoxology-related courses offered by ICE partners, see the "training" link at the website: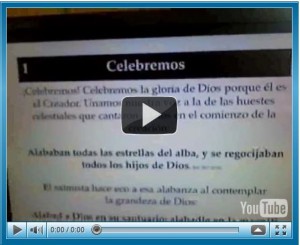 Obrerofiel, with the permission of Libros Alianza, is excited to release a brand new Celebremos Su Gloria product of this popular hymnal. With some churches using projection systems , there have been many requests for a PowerPoint(r) type system. This new Presentation Hymnal Edition of the Celebremos Su Gloria meets this technology need for many churches. It is competitively priced to equal what a church would normally spend for 30 pocket sized hymnals and 1 professional edition hymnal for their musicians to use.  To see it visit
http://www.tiendaobrerofiel.com/epages/tiendaobrerofiel.sf/es_ES/?ViewObjectID=178038
(That URL will likely "wrap." If you have trouble copying and pasting it into your browser, just find this item on the web at the link immediately below and use that link to jump to the site.)
g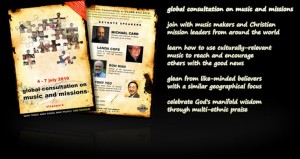 The third Global Consultation on Music and Missions, a worldwide gathering of hundreds of musicians, music missionaries, educators, worship pastors, and Christian leaders, will be held July 4-7 in Singapore. There are 6 tracks, each with 6 sessions: Missions, Creative Communications, Creative Arts, Ethnomusicologists, Musicians, Chinese Ministries. People involved in missions, media, worship leading and creative arts will find this consultation to be invaluable. Registration deadline closes in a few weeks. Better act today.
http://www.gcommhome.org/2010/
(Thanks to the Global Consultation for sending a gift of $50 to speed Brigada on its way!)
Check out "Change the World: Mission Songs for Children CD," a fun resource your children will enjoy year after year! This dynamic CD features worship and camp songs for kids, such as "Send Me, Lord," "Change the World," and a contemporary version of "We've a Story to Tell." To order, visit
http://wmustore.com/product.asp?sku=W047103
or call 1-800-968-7301 (USA callers can dial toll-free; others can call via Skype-out). Or email
for more information.
To comment on this item, simply click "Comment" below.
Hey… I'll try just about anything. :-) Check out:
http://www.myspace.com/douglucasmusic
Note that you need not register at MySpace to listen or download music there. Note that Doug arranged and recorded each piece, using only a Yamaha keyboard to make all those unique sounds. (Exception: On a couple of the songs, Doug's 22-year-old son pitched in on a real guitar; those are noted.) If you'd like us to lash up a CD and send it your way, please just add an extra $10 to your donation and we'll get one out the door to you as soon as we can make it happen. (The alternative would be to download the songs and put them directly on your MP3 player, if you use that sort of thing.) Either way, if enough folks get a kick out of this, we'll be glad to do a set of Christmas songs (a Christmas CD) as well. It's just hard to know if anyone would really want to listen to this sort of stuff. Thanks in advance for anyone who tries it out.
Want to donate (either in the name of music, or not) to help get Brigada out the door? Just just click one of the pushbuttons at the right-hand top of the home page… or use the PayPal link on the upper left if you prefer. Either way, you can also click on the "Donate" page in the link at the top of the webpage
https://brigada.org/1995/01/contribute.html
Again, you can choose to use PayPal or any major credit card (to do the latter, when it asks for your PayPal account, just erase the user name and password, then, at the bottom of the page, where it says "Use any major credit card", just click there and fill it out like a normal form at any other payment web form. On the other hand, if you want to use PayPal, just fill in the info for your account. Or if you prefer, just send an old-fashioned check payable to Team Expansion to: Team Expansion (Brigada), 13711 Willow Reed Dr., Louisville, KY 40299. (Team Expansion is a 501(c)3 incorporation so for USA citizens, your checks made out to Team Expansion are tax-deductible.) As always, be sure to let us know if you'd like us to promote any particular service or ministry, or if you'd prefer your gift be anonymous. And thank you in advance for helping.
Comment on this item at:
https://brigada.org/2008/09/9-regular-monthly-givers.html
The Southern Baptist Theological Seminary offers a new, interactive workshop May 31-June 6, 2008 in ethnodoxology, the cutting-edge field integrating ethnomusicology and the arts with worship applications. The course "Introduction to Ethnodoxology: Connecting Global Worship to Global Mission" will be taught by a team of scholars and global song experts from the International Council of Ethnodoxologists (ICE). The course equips students to cultivate culturally appropriate, biblical worship in international or multi-ethnic contexts. Better act fast if you want the early registration discount (postmark by May 15) — $375.00. If you wait 'til after May 15, it's $100 more. The workshop Fee is for noncredit. Graduate credit (3 hours) is also available. See
or for more information, call 1-800-626-5525 (extension 4115) or email ecrookshank(at)
sbts(dot)edu. [As a means of preventing spam for our contributors, in the preceding email address, please replace (at) with @ and (dot) with . then reassemble the address onto one line.] And thanks to "ICE" for sending a gift this past week to Brigada!
Come to the summer graduate ethnomusicology classes at Bethel University (MN, USA). 5 courses run as follows: Applied Ethnomusicology (emphasis on missionary applications): June 2-13. Seminar in African Music: June 16- 20. Seminar in Native American Music: June 25 – July 1. Transcription & Analysis: July 7-11. Worship & Culture: July 14-17. Audit fees are $200- 300 per course, graduate credits are more. More information is at
http://gs.bethel.edu/musicology/courses.html
or contact j-benham(at)
bethel(dot)edu [As a means of preventing spam for our contributors, in the preceding email address(es), please replace (at) with @ and (dot) with . then reassemble the address onto one line.]