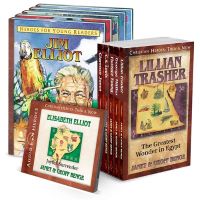 And you thought Cyber Monday was all about gimics. Instead, pick up Great Heroes of Faith and Character, which includes two five-book sets. One set of five chronicle of the lives of Lillian Trasher, George Muller, Clarence Jones, Florence Young and C.S. Lewis. The other shares five "heroes of history:" Jim Elliot, Lottie Moon, Brother Andrew, Clara Barton, and Laura Ingalls Wilder. $117 worth of books for $47. You can't lose. For more information, visit…
www.ywampublishing.com/p-1675-cyber-monday-2019brgreat-heroes-of-faith-and-character.aspx
Lifeway is running a free online Bible study for ladies beginning January 9th. All you'll need is the Bible study book. Access to the videos will be free through March. Learn more at…
onlinestudy.smallgroup.com/v/DefinedOBS
(You might even be able to win a free book somehow there!)
In a word, indubitably. How many CEOs took part? 119. Would we have liked for that to have been 500? Sure. But did these 119 CEOs give some fantastic answers? Most definitely. Their top personal priorities, their top influencers (the page on "Most Recommended Books" alone is worth the price of admission), the "annual review," work and life, energizers, exhausters, staff effectiveness, activity assessment, external forces at work, internal forces and much, much more – they all help us put the job in perspective. These sets of answers help us see the "systems" that can influence… that ARE influencing… the jobs we do as leaders of agencies. VanHuis and his team have done an incredibly valuable service for us. You can read the entire report online for free if you're already a member of Missio Nexus. (If you're not — gasp.) See it here:
missionexus.org/ceo-survey-report-analysis-2019
In a word, absolutely. Seeing how other local church missions leaders function, how they prioritize (e.g., how they rank various concerns), what are the external forces at work in their jobs, what they consider to be key attributes of effective missions leaders, what are their key resources, what are their most helpful books, where do they send short-term teams — all these and more… they help create categories. They help give shape to our ability to analyze our own systems of thinking. Imagine a report that helps you keep short-term teams safe, or helps you collaborate. If you're a member of Missio Nexus, this report is free for you to read online. (If you're not — gasp.) See it here:
missionexus.org/church-missions-leader-survey-report-analysis-2019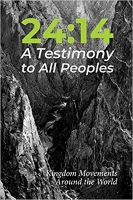 You can buy it at…
https://smile.amazon.com/24-14-Testimony-All-Peoples/dp/1687755868/ref=tmm_pap_swatch_0
But did you ever hear the phrase, "You never get something for nothing?" I'm afraid 2414 is out to break the mold. Their new book, "2414 — A Testimony for All Peoples," which is intentionally posted online absolutely free of charge and it's packed FULL of vision, scripture, case studies, and helpful tools. Compiled by top-notch trainers (Dave Coles and Stan Parks), it's actually a collection of a TON of articles and training pieces. And you can find it TODAY on the web for free in all its 345-page splendor simply by browsing to:
www.2414now.net/wp-content/uploads/Compiled-2414-Book_For-Conversion_Paperback_v2.pdf
You'll learn about church-planting movements (CPM — otherwise known as disciple-making movements or DMMs). You'll see how groups of all kinds fit in with that strategy. You'll read about case studies, movements in the Bible, and lessons learned in the American church and with agencies. Plus you'll be able to acquire all kinds of helpful tools for your own work. They could have asked $20. But they didn't. Get the printed version for $8.52 and the Kindle version for under $1. Or just download the PDF version for free. It's your choice. Well done, 2414!