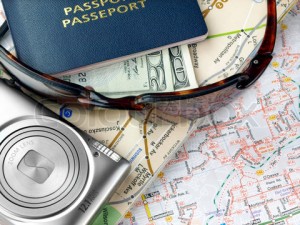 Choosing the right camera is a very personal decision. We recommend trying to find one with high-def 1080 video capabilities and a built-in mic jack into which you can plug a wired or a remote lavaliere mic (essential to bump up the audio quality for videos). If you can find on that carries reasonably well in a jacket pocket, you'll be doing well. But the secret is to find something that works well for YOU. Pick up a little tripod to stick in your backpack or vest pocket. If you find yourself photographing church services in large (darkened) meeting rooms, you will probably have to carry an external flash too. Nothing beats the Nikon Speedlite series, but the best bet is to get one that syncs with your camera.
There are scads of offerings out there (visit your local camera shop or electronics warehouse to hold and sample the possibilities), but you won't go wrong with the Fujifilm X100T.
http://www.dpreview.com/products/fujifilm/compacts/fujifilm_x100t/overview
We have a hard time recommending anything outside the Nikon, Canon, or Sony world, but Fuji makes it very difficult not to mention the X100T. It has great picture quality, brilliant resolution, a relatively fast lense, a fast viewfinder, and dramatic images.
If you want to pick up your game with interchangeable lenses but keep things thin and light, the Sony Nex 7 is hard to beat. Learn more at…
http://www.dpreview.com/reviews/sonynex7
The entry level flash would be the HVL- F20AM model, but the HVL-F43M is more powerful and more sophisticated. Read about it here…
http://www.amazon.com/Sony-HVLF43M-Power-Flash-Bounce/dp/B00DQI00EY