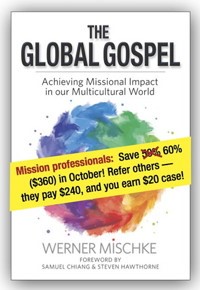 The author of an important new book is eager to get it into the hands of missionaries and their donors by boosting the first print run and sharing the savings. So he has agreed to this pre-publication discount on cases reserved by missionaries during October:
– A 60% discount ($360 off each case of 24).
– AND free shipping.
– AND a $20 referral for each case sold.
So your missionary friends can save $360/case, and you can earn $20. Check out this offer and email it to missionaries you think would be interested.
The book is The Global Gospel…
The deal is described at…