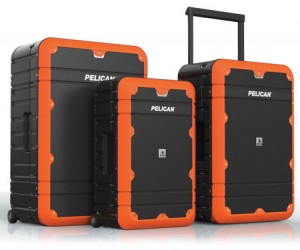 Those who travel via air, often, have learned to pack only a good carry-on: no lost luggage (ever) and lots of flexibility when one has to change itineraries because of bad weather or other contingencies. So the question becomes even more important: What's the perfect carry-on? Caleb recently pointed us to this pricey but perfect solution: the new pelican pro gear luggage series and its 22″ carry-on.
http://www.pelican.com/luggage/
As Caleb pointed out, "It's intense, over-engineered, busting with features, and essentially break proof." In fact, it's also
-waterpoof
-crushproof to 1500 pounds!
-it has a vented interior, but is still waterproof
-flat profile all around, so nothing can get knocked off or caught/broken
-no zipper to break, get stuck, or fail
-it has a cloth-lined interior for that cozy feeling
-it has built in locks
-lifetime warranty!
-and more!
However, this bag might be out of our price range. So what's YOUR idea of a perfect carry-on? Just click comment on the web version of this item… and thanks for taking time to share your best find.