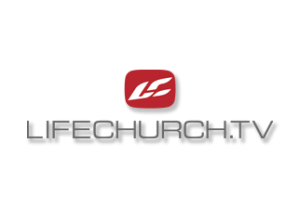 I recently attended a convention at which Craig Groeschel was speaking. He's the founder of LifeChurch.tv (see items 4 and 5 above). As mentioned above, they began in Oklahoma City with 40 people meeting in a two-car garage in 1996. They have multiple locations in five states, along with 20 TV campuses. ChurchReport.com considers them the 5th most influential church in the USA. These days, about 26,000 worshippers visit their physical campuses every week — but maybe that doesn't matter anymore. They now regularly have 150,000 unique computers visiting and taking part in their church online. Outreach Magazine named them "America's Most Innovative Church." They give away their YouVersion Bible app (maybe the most popular Bible in the world?) at Bible.com, having turned down multiple offers to monetize it. "My Bible is not for sale," Groeschel likes to say.
LifeChurch has five simple values: 1) try anything short of sin to reach people who don't know Christ; 2) lift up other churches who are part of Christ's church; 3) exist for the purpose of being spiritual contributors instead of spiritual consumers; 4) lead with irrational generosity; and 5) live as big thinkers and bet-the-farm risk takers to bring glory to God.
What's the magic behind LifeChurch.tv's success? In the message at the convention I attended, Groeschel explained that having limited resources + a willingness to fail, combined with increasing passion, would consistently result in exponential innovation.
So here's the question: Do you have limited resources? Are you willing to fail? Can you muster increasing passion? If so, what's stopping you from innovating exponentially? Maybe — only your imagination? Your thoughts? Just click "Comment" after the online version of this item. And thanks in advance for anything you share.