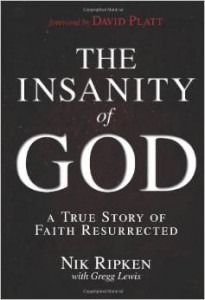 The Insanity of God is a book by Nik and Ruth Ripken. For many of us, at least in the United States, we believe that by being obedient to God's call will result in a safe and secure life. How many of us have been told that the safest place to be is right in the center of God's will? Nik and Ruth Ripken's journey takes them too many places where they see many Christian lives at stake just because of their belief. While working in Somali, Nik sees depravity, starvation, and evil at its best. He even feels that every time he arrives in Somali that he has "descended into hell by way of a bombed-out, single-landing-strip airport…" (Chapter 1, pg 1). After a devastating life event, however, the family packs up their belongings and heads home to Kentucky to question everything they believe in – including their faith.
Story after story of persecuted believers, Nik is humbled and moved that God performs miracles just like the days of old. "The stories that I was hearing saved my life. God is indeed still present in this broken world. He is working. He is doing what He has always done. And, through the stories, my hope and my faith were being rekindled," (pg 272).
During his trip to Ukraine, he was with a group of believers listening to their stories of prison, persecution, and God's powerful hand in their lives. At the end of the testimonies and stories Nik responds by asking, "I just don't understand why you haven't collected these stories in a book? Believers around the world ought to hear what you have been telling me here today. Your stories are amazing! These are inspiring testimonies! I have never heard anything like them!" An old pastor replies, "Son, when did you stop reading your Bible? All of our stories are in the Bible. God has already written them down. Why would we bother writing books to tell our stories when God has already told His story. If you would just read your Bible, you would see that our stories are there," (page 179).
This takes Nik on a journey that not only restores his faith but takes his faith to new levels as never before. His book reminds the reader that the God of the Old and New Testament is alive and well today – and that maybe we have put God in a little box surrounded by parameters. Nik states, "And when the Bible becomes present active tense, not only is God out of the box. There's no box. It's burnt, it's ashes."
Watch the book "trailer" at…
Order the Insanity of God at…
http://www.amazon.com/gp/product/1433673088/ref=as_li_tl?ie=UTF8&camp=1789&creative=390957&creativeASIN=1433673088&linkCode=as2&tag=teamexpansiononl