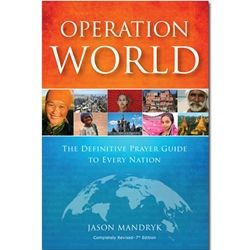 Where else can you get the entire world, downloadable in minutes? Operation World is arguably the definitive prayer guide to every nation. It's now published by Biblica Publishing and is available in multiple electronic formats to support any e-book reader, including iPad, Kindle, Sony, Nook and more. It includes…
*** Updates on church growth, population, people and language statistics
*** Explanations of major currents in economics, politics, and society
*** Challenges for prayer and specific answers to prayer
Mike, the Director of Marketing for Biblica, reminded me recently that until recently, Operation World was only available as a traditional book, CD-ROM, or DVD. Now — suddenly — it's ready to download immediately, in just about every format imaginable.
The e-book is fully searchable in full color when devices are color-compatible. Its table of contents is hyperlinked and has bookmark features. You can find it at any of these 3 sources:
For more than 40 years, Operation World has been the primary global resource encouraging readers to pray for world missions and evangelism. Since the original edition as printed in 1974, more than 2.5 million copies have been sold in a variety of languages. The book has been translated into German, Spanish, Portuguese, French, Korean, Chinese, Russian, and in part into Indonesian and Italian. It's my go-to book, the one I open during prayer times (when I'm sure people think at first that I'm checking my email), and the one you'll go to again and again. No kickbacks, no marketing fees, no fooling — this book is the real deal.