We're never sure what to think when we read the latest study. It seems like we can almost always find SOMEONE who can show this trend or that trend (sometimes in direct opposition to one another). But this study…
www.pewforum.org/2019/10/17/in-u-s-decline-of-christianity-continues-at-rapid-pace
seems so serious. If it's true — that the Pew Research Group has determined that there was a 12% decline those claiming to be Christians in the past 10 years, and that church attendance is down by over 7% in 10 years, and that those who say they have "no religion" has grown to 30 million in ten years — what do these trends mean? Is Christianity really declining at such a rapid pace in the USA? What are your thoughts?
Please note that the study reported here…
www.brigada.org/2019/07/28_26717
was always, fair and square, a study conducted fully by Missio Nexus without any assistance from any other agency. (Our original item said otherwise. Please forgive.) We corrected it on the web within minutes of being notified, but we just thought we'd mention it here for any Brigada participants who read the email version exclusively. Again, thanks to Missio Nexus for carrying out this research.
At the end of last year through spring of 2019, the BBC interviewed more than 25,000 people in across 10 countries and the Palestinian territories. They asked some very interesting questions like, "Are you planning on leaving your homeland?" "What decisions would you entrust with a woman?" "Would you sanction an honor killing?" "Do you have a more positive view of Trump, Putin, or Erdogan?" Answers to these and other questions might surprise you. One of the most revealing and relevant set of questions dealt with the question, "Do you consider yourself religious or nonreligious?" Interestingly, in several countries, significantly more people considered themselves nonreligious today than in 2013. In Tunisia, for example, the number of nonreligious had tripled — in just 5 years. This is a remarkable change for a country that has historically been virtually a police state. What's your take on these and other changes? For example, in the case of Tunisia, do you consider it a positive thing for acceptance of the Good News — or a negative thing — if triple the number of people say they're non-religious? Check it out at…
https://www.bbc.com/news/world-middle-east-48703377
Please click "Comment" following the web version of this item. Thanks in advance for any input you might give. (Thanks, Jeff, for your note about this survey!)
Curious about the impact of factors such as singleness, having children, marital issues, children's education, aging/ailing parents, adult children, grandchildren, etc., on return decisions for cross-cultural workers? Wonder no more. Read Andrea Sears' full report at…
themissionsexperience.weebly.com/blog
Perhaps you won't be surprised by the outcomes — that "Educational options for the children and having aging/ailing parents that need care are the two strongest family factors in making a decision to return to the passport country, according to the weighting of responses given."
(Thanks to Jenny in her April "Member Care Newsletter," citing Andrea's report in "A Life Overseas.")
If so, this new study from Exponential by LifeWay Research might shed some light on your quest. Reported just last month (March 6, 2019), the study points out that "three in 5 (61 percent) pastors say their churches faced a decline in worship attendance or growth of 5 percent or less in the last three years." In fact, "fifty-four percent of pastors say fewer than 10 people indicated a new commitment to Jesus Christ as Savior in 2018, including 8 percent who had none." Interestingly, LifeWay found a bit of a tipping point. "Less than a quarter (23 percent) of churches with an average worship attendance of fewer than 50 say they are growing, while most churches with 250 or more in attendance (59 percent) are growing." By the way, most Protestant churches have fewer than 100 people attending services each Sunday (57 percent), including 21 percent who average fewer than 50. Around 1 in 10 churches (11 percent) average 250 or more for their worship services.
We feel that many people will seize on the negative parts of this study. They'll hear that " three in 5 (61 percent) pastors say their churches faced a decline in worship attendance" and miss out on the news that 39 percent say their congregation has grown by at least 6 percent since the first quarter of 2016. While the media would like for us to believe that the USA has left Christ to follow secularism, reality tells us otherwise. Church growth is still happening. We just need to work at it and rally for it a bit harder. See the full report at…
lifewayresearch.com/2019/03/06/small-struggling-congregations-fill-u-s-church-landscape/
What surprised you most about this study? Can you spot any encouraging perspectives, or is it mostly dim news for you?
(Thanks to Justin for pointing us to this study originally.)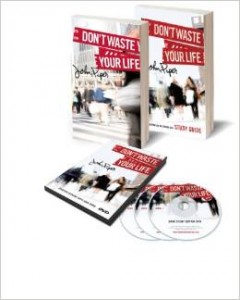 When my son found a copy of the book, "Don't Waste Your Life," on a table at Fort Benning several years ago, it was a life-changing experience for him. He was processing out of the army having been hit by a career-ending knee injury. His lifelong dream was crashing in around him. In the middle of all the swirl of emotions, John Piper's book was critical in helping him rebuild a dream — a dream that has him in the Middle East today, helping people rebuild their own dreams. That's why I'm excited about the group study featured here…
http://www.amazon.com/gp/product/1433506319/ref=as_li_tl?ie=UTF8&camp=1789&creative=390957&creativeASIN=1433506319&linkCode=as2&tag=teamexpansiononl&linkId=BUI5EEIOUYLAHFSP
In this newly designed kit, small groups and classes will be able to maximize John Piper's biblical charge to make our lives count for eternity. Piper's central thought is that millions waste their lives on seeking a kind of "fatal success," all because they have not awakened to the simple, biblical reality that "to live is Christ, and to die is gain." This valuable resource can assist churches, small groups, and teachers in reversing that empty trend.
The newly redesigned kit combines a group study edition based on John Piper's best-selling book Don't Waste Your Life, with a ten-session DVD featuring his teaching, plus a full-length study guide and leader materials. It contains everything a ministry or facilitator needs to stimulate discussion within a group and to convey Piper's passion to make our lives count for eternity.