PicPick is a free (for personal use), all-in-one design tool for everybody who uses Windows. It features a full-featured screen capture tool, an intuitive image editor, a color picker, a color palette, a pixel-ruler, a protractor, a crosshair, a whiteboard and more. You can capture anything, edit your images, enhance them with effects, share them, create mosaics in the faces of people you need to obscure (because they work in sensitive lands). And to top it all off, it's free. We've needed this. We've been looking for it for years. Now it's here.
Have you been seeing these new "HEIC" images lately? Nothing on your laptop will open them? They seem to have come about, in part, from a new iPhone iOS upgrade. If you need an app to convert them (for free) on your laptop, just head on over to…
You'll find exactly what you need — with no spam, no trash built in, and totally for free. Thanks imazing!
We recently asked about the Turo car-sharing service and associated app. With the proper disclaimers and with the right set-up, it seemed like some of our Brigada family liked the experience. Read the thread at …
www.brigada.org/2019/06/09_26425
One user wrote recently via email that he had "rented a car for several weeks this January through Turo. Got a terrific deal and had good interaction with the owner. I had an engine light come on at one point but didn't find anything wrong so called the owner. He said to continue driving and when I came by his place the next day traded it in for another of the same kind that he had." Seems like that's a theme. Lots of personal care and interaction. Thank you, Brigada audience, for sharing! This service was totally new for me.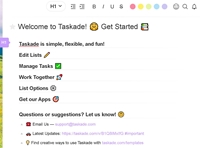 For at least the first year of your use, the CEO at Taskade has been willing to share a coupon code with Brigada participants so that they can subscribe to the pro version of Taskade for a full 50% off. This coupon might only work for the first year but it might also end up giving you a 50%-off rate indefinitely. You'll recall that Taskade is an outliner/to-do list/reference app that offers you unlimited workspaces, unlimited team members, and unlimited file uploads. Learn more sat
When subscribing, use the Brigada coupon code,
DuxC2Hx6
to save 50%. Don't forget to check out the great apps for digital devices like iPhones and Android devices. (Thanks to John and all our friends at Taskade! And by the way, truth-in-advertising, we aren't paid any kind of affiliate fee from Taskade. We just love and use the program ourselves.)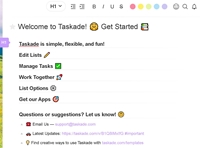 We've mentioned Taskade before. You can use this app as an outliner, list-maker, thought-organizer, and collaboration base. The free version gives you unlimited lists, all of which can be organized in bullets and "folded up" so you can make sense of "both the forest and the trees." The free version also allows you to include an unlimited number of collaborators, plus you can include due dates, reminders, use templates, conduct team chats, and even do voice and video calls (all for free!). The product syncs in real-time across platforms, meaning you can start your list on your laptop in your office and continue it on your phone in the park while walking the dog (as long as your dog doesn't mind). It will send push notifications (that actually work) to your phone and laptop as well. And there are custom mobile and desktop apps for everything you can imagine. What's more, it's encrypted end to end and the vendor pledges that there are regular backups going on constantly. By pitching in $84/year, you can pick up a crucial feature: global search (which works instantly, by the way) AND unlimited attachments. (The free version is limited to 100 Meg of storage.) Think about it — unlimited means 5 gigs or 5 terabytes (in 50 meg chunks, mind you) – it doesn't matter. Pretty cool.
For some reason, we're liking Taskade better than any of the other outliners out there right now. The sharing aspect seems somehow easier to grasp than Workflowy and we love the "startup" mentality of Taskade. (The staff is incredibly responsive and has even participated in 'live' brainstorming sessions with us.)
Try Taskade for free at…