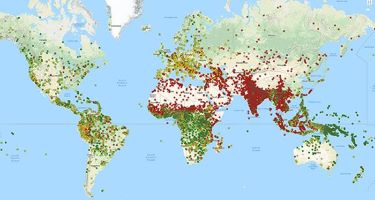 When you read Matthew 28:19-20 (typically known as "the Great Commission" — but, according to Barna, not as often as we would like), what does "panta ta ethne" mean to you? Throughout all recent generations (for example, to William Carey's), certain pioneers and apostolic figures have reminded us of the importance and priority of reaching the unreached. (For example, see Jesus in Luke 15:3-7.) Recently (at least once every decade), someone calls into question how serious Jesus really was when he told the parable of the lost sheep. For example, see…
www.thegospelcoalition.org/article/misleading-words-missions-strategy-unreached-people-groups/
Recently, our good friend, David P. Jacob, took up the baton to write a response to the gospel coalition piece. Who is David Jacob? Since 2008, he has been an Assemblies of God missionary to a sensitive country in Northern Asia. He currently serves as the missionary in residence and chair of the intercultural studies department at Trinity Bible College and Graduate School in Ellendale, ND. He is also the director of The Center for Missionary Mobilization and Retention, a resource center that provides tools and trainings for pastors, missionaries, and missions mobilizers who want to send and sustain the next generation of missionaries. David has a Master of Arts degree in Missional Leadership and is currently a PhD candidate in intercultural studies. We're grateful for his thoughtful response. Read it in its entirety here:
brigada.org/wp-content/uploads/2019/11/Ethne_meaning_People_groups_vs_all_Gentiles.pdf
Thanks David! Awesome.
Do you agree or disagree with David's piece? Please share your take following the web version of this item. Thanks in advance for your thoughts!
Didasko Academy focusses on training to reach unreached people groups (UPGs). Their current courses give an in-depth overview of the world of missions. They offer courses like The Bible and Missions, Discipling the Nations, Roles in Frontier Missions, and Prayer Strategy for Life and Ministry. Their courses are self-paced, and can be done individually or in facilitated groups. Graduates receive a digitally signed certificate upon completion. A detailed overview of course learner outcomes is available at: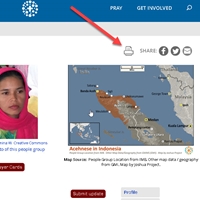 For those who were wondering how to print UPG profiles at Joshua Project (mentioned in our last edition at…
www.brigada.org/2019/02/24_25802 )
First, search for the unreached people group in which you are interested. Once you've found it, just look in the upper right of the page for the "printer" icon. When you click that icon, you'll be given a chance to print the profile. It's that simple.
This past week, we received a great question from a great friend of Brigada working in a sensitive area. We'll call him Bob (not his real name) to protect his identity. He asked, "Hey Doug, Thanks for this week's edition of Brigada. I've got a question I'd like to pose to the Great Commission community. I haven't really seen this addressed anywhere. The question is, 'How should we perceive and deal with people groups that are losing (have lost) their ethnic identity?' For example, in my country of service, many of the UPGs that are on Joshua Project and other lists have become quite assimilated to the national culture. Does that mean they cease to be a UPG? If so, to what degree do they need to be assimilated in order to no longer receive a specific focus? Also, if a people group no longer speaks a unique language (or a language has become extinct), what does that mean in terms of every people, nation, TONGUE, and tribe? By the way, I'm not as interested in the linguistic side of this question as I am the question of prioritization… Should we keep such groups on the unreached lists? What is God's heart in this matter? Does anyone have case studies or has anyone thought through this? If you post this somewhere, please remove my real name since I'm in a sensitive area. [Done!]"
So how would you answer Bob? If you would, please click "Comment" following the web version of this item. We'll all look forward to hearing your response (and Bob, in particular, will be glad to see it).
The IMB (International Mission Board of the Southern Baptist Church) has done us a huge favor by gathering great research data, then presenting it in a manageable fashion, at…
The best way to get started it to watch Jim Haney's great intro at…
Then, dive in. Explore, Understand, Connect and Act. This is some of the best data we have available to date, updated regularly, so it will be relevant, real-time, and reality-based for your planning and implementation. Team this site with the stand-by,
and you've got a great "one-two punch" for understanding the task remaining. Thanks to all the hard work Jim and his crew have invested. Our futures are brighter because of it! And so are those of unreached peoples around the world.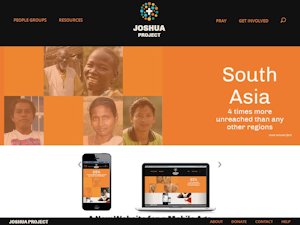 Wow. If you haven't stopped by…
in the last day or two, I'm guessing you won't even recognize the place. It's WAY cleaner, WAY cooler, instantly responsive, and radically simplified. I'm still trying to learn some of the new push button strategies. For example, in the People Group Listings, it took me a while to figure out that I had to have at least one button turned "green" in each category or else the listing would come back zero. But I figured it out after a few minutes and I know you will too… and then, I bet these pages stay very active — and gets LOTS of looks — because it's sure a gorgeous interface. Well done, guys!
We've got a great friend who does research on unreached peoples. He saw our item about unreached people groups with smaller populations in the Apr. 14 edition ("The BackPage: Your Thoughts about the "Small Tribes").
https://brigada.org/2013/04/14_11350
He wrote this past week, "I am the researcher for many people groups with my org. A couple of years ago we put out a warning… If you field people do not validate ZERO population people groups by X date we will delete them from our list. Deleting does not remove them forever. It just takes them off of what is visible to people. I personally am thinking this way. If it is a people group that does not exist anywhere else then a population of 1,000 is a good cut off point. If the group is over 1,000 then we need to look harder at them now. But if the PG is a diaspora group like the Persians in Belgium then 5,000 would be a better cut off amount. If you take a mega-city like Moscow or Istanbul and you allow for 50 member people groups to make our list then suddenly a hundred people groups might need to be added to current lists. The larger question that the above research exercise underscores is "Does this people group warrant a unique CP strategy?" That is a hard judgment call that few want to tackle. It looks bad to ask that question. But field experts need to share what they think on that question to help steer pre-field people or senders. A diaspora portion of a people group of 2,000 may not need a unique CP strategy because they can be reached via the city strategy. But a unique people group in its homeland that is 1,000 members may be overlooked or not naturally welcomed into a local CP work."
Actually, now that I've considered it, I think his thoughts are right on track. Your thoughts???
He added, "And about your person. That person investing time researching becomes a front liner for research. Most of us field people will do the same steps your friend did. Cleaning up an old entry and suggesting they be deleted is valuable service in the Kingdom. Why not encourage your friend to suggest that the people group get deleted from the lists. Joshua Project and others like me listen to such advice."
Do you agree or disagree? Should we begin recommending that JoshuaProject.net "clean out" people groups that are 1000 and down? I'm leaning that direction. I'm afraid they will be just too hard to find — unless there is very specific documentation in existence about them. Your thoughts? Please click "Comment" below the web version of this item.