Create International and the Visual Story Network are thrilled to host the 2020 Visual Media Strategy Forum Mar. 28th-29th in Chiang Mai, Thailand. They believe that these few days of focused collaboration will result in continued partnerships for bringing the knowledge of the glory of God to many who still have not heard. Register now for your place at this milestone moment at: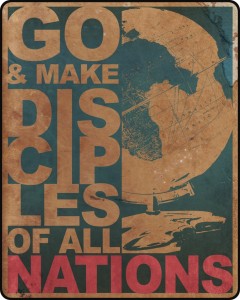 Recently, we went through coaching with Chris Galanos, the author of "From Megachurch to Movement," and in his training, which he says is taken mostly from Stan Parks, he keeps cycling back to "7 Ongoing Elements" that pretty much have to be happening if a movement toward Christ is to occur. (Compare these to Garrison's 10 Universals.) The 7 elements are:
1. Focus on God's Word
2. Multiply extraordinary prayer
3. Cast vision
4. Train believers to go out among the lost
5. Go out among the lost
6. See groups start
7. Ongoing coaching (which could also be viewed as peer mentoring)
The more we interact with these, the more comfortable they feel. See how everything flows from the Bible as the first source, then prayer as the connector — which gives way to God-inspired vision, which leads one ultimately to conclude that training believers to go out among the lost is ultimately the very best use of our time. And then the rub comes. After all these trainings, we have actually to *do* what the training teaches us to do!!! That's the tough part. But if we *do*, and if God decides to bless (His call), then we will see groups start (at least eventually). Either way, we've noticed clearly that, without that ongoing coaching or peer mentoring, it's incredibly hard to keep going — and it's also hard to know what to *do*! So these make such great sense! Well done Stan Parks… and well done Chris.
Your thoughts on these 7 Ongoing Elements???
The IMB described it this way:
a) Entry
b) Evangelism
c) Discipleship
d) Healthy Church Formation
e) Leadership Training
f) Partnership and exit
See the full out line in blog items like this one…
www.imb.org/topic-term/six-components-missionary-task/
and zero in on particular items in articles like this one, on the disciple-making task, for example:
www.imb.org/2018/10/29/missionary-task-disciple-making/
What's YOUR take on this kind of component model of the missionary task? What do you feel the IMB has left out that should have been included? Please jot your answer in a Comment following the web version of this item. Thanks in advance for your opinion!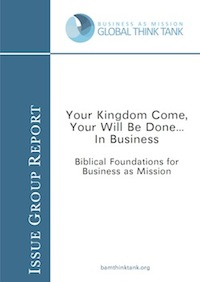 The 'Global Think Tank on Business as Mission' has been bringing people together to learn more about the strategy of business as mission since it launched in 2012. The Think Tank is now releasing a series of equipping papers and reports for those interested in Business as Mission. Each of the reports covers a particular topic or geographical region and has involved collaboration by BAM leaders worldwide. Topic-focused reports published so far are: Business as Mission and Church Planting, Franchising, BAM and Human Trafficking, Hostile Environments, BAM at the Base of the Pyramid and Biblical Foundations for BAM. Geographically-focused reports include: Mongolia, Iran, Nordic countries, Haiti and the latest, "Business as Mission in and from China". The next report to be published will be on metrics for BAM companies, looking at how we can measure spiritual, social and environmental impact, as well as the economic bottom-line.
Download reports and see all reports in series here:
http://bamthinktank.org/report
Sign up for Think Tank news and notifications about new reports here: