Do you sense God calling you to serve overseas? Do you long to see Muslims follow Jesus Christ? Do you have what it takes? They can help you get there! This three-day intensive is designed to impart practical missional skills. Learn how to communicate the love of Jesus with your Muslim friends and begin a lifestyle of discipleship. They stage events in multiple locations. For more info, visit …
Mountain Feet Weekend helps you hear and respond to God's invitation on your life so you may humbly and confidently join God's kingdom purpose in a way which honors who you're created to be. It takes place Oct. 25–27 near Oklahoma City. The $95 fee includes lodging, meals, materials, and the opportunity to get to know others like you who dare to live a life of eternal consequence. Register by Oct. 20:
beautifulfeet.global/mountain-feet/
Unless you've spent the last century living on another planet, you've no doubt heard the story of Jim Elliot, made famous in the book, Through Gates of Splendor. But have you ever heard Jim Elliot himself (his very own voice) preaching on the resurrection of Jesus Christ? If not, it's worth it to invest 39 minutes in listening to this audio track: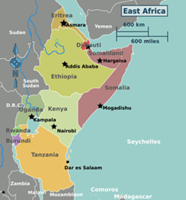 …and — wow — talk about a heart on fire. He and I did this in 2018 as well, except, in 2018, we spent two full weeks together on the road. We're talking every minute of every day for two full weeks. This year, it was "just one week" — but even in one week, every minute of every day… it tends to help you get to know someone. This guy is an enigma. On the one hand, he's smart, articulate, and visionary. On the other hand, he's relational-to-the-max, old-fashioned, and super-humble. This guy is super humble and sometimes fiercely independent, while, in other moments, he makes it clear he truly feels he has so much to learn. What is it about the Ethiopian mind, the Ethiopian culture, and the Ethiopian spirit that is causing them to thrive in the midst of chaos. Back home, their country is sometimes topsy-turvy with tribes that are rebelling, border checkpoints galore, and extreme weather conditions that would challenge the best of us. Yet… in the midst of all of this, Christianity has flourished. Check out this current article in Christianity Today, for example.
www.christianitytoday.com/ct/2019/july-august/ethiopia-missions.html
Imagine living in a land which was 3% Christian in 1970 and now maybe 25% in 2019. (The article implies 20% but all our insider sources are saying 1 out of every 4 is an evangelical.) The Prime Minister, for example, told his people — "let me be the nation's pastor." He's an evangelical too.
So it should come as no surprise that my Ethiopian buddy has teamed up with our org to send six new teams in the past 12 months. They're still in language learning, but they've already launched 20 new groups and they're already seeing responses to Christ. And they engage people every day now in meaningful spiritual conversations. One of the Ethiopian team members was captured by a somewhat-dangerous Islamic group as a teenager. While being threatened with death, she refused to deny her faith. Now, as an adult, she's back working among Muslims again in spite of it all.
Let's take a lesson from Ethiopia. That treasurer got it right from the beginning (Acts 8). Let's go back to the basics, trust in God, and follow the examples of our new-found friends who want to step up to the plate and finish the Great Commission. They want to take their places on mission teams around the world in the most dangerous lands. When I asked my buddy if he could find 18 new recruits for us, he looked back at me with strength, dignity, and intentionality: "We can find you 1000 Ethiopians who will lay down their lives for the sake of the Gospel."
Now, I believe him.
Let's join them in the Greatest Cause ever. May God give us strength.
Brigada featured this book before but now it's available in audiobook (for those of us who prefer to listen to a book). "Commission To Every Nation: How People Like You are Blessing the Nations," a US and Canada based interdenominational missionary sending agency, doesn't advertise or recruit but has found a way to find a steady stream of missionary applicants. The founder explains what they do that is working for them. Check it out at
https://www.amazon.com/Commission-Every-Nation-Blessing-Nations/dp/0998508594
Howard Culbertson, Emeritus Professor of missions and world evangelism, once wrote a great piece on how, "Ten Ways to Avoid Becoming a Missionary." We think you'll find them entertaining. : )
*** 1) Ignore Jesus' request in John 4:35 that we take a long hard look at the fields. Seeing the needs of people can be depressing and very unsettling. It could lead to genuine missionary concern.
(John 4:35 "Do you not say, `Four months more and then the harvest'? I tell you, open your eyes and look at the fields! They are ripe for harvest."
*** 2) Focus your energies on socially legitimate targets. Go after a bigger salary. Focus on getting a job promotion, a bigger home, a more luxurious car, or future financial security. Along the way, run up some big credit card debts.
*** 3) Get married to somebody who thinks the "Great Commission" is what your employer gives you after you make a big sale. After marriage, embrace the socially-accepted norms of settling down, establishing a respectable career trajectory and raising a picture-perfect family.
*** 4) Stay away from missionaries. Their testimonies can be disturbing. The situations they describe will distract you from embracing whole-heartedly the materialistic lifestyle of your home country.
*** 5) If you happen to think about missions, restrict your attention to countries where it's impossible to openly do missionary work. Think only about North Korea, Saudi Arabia, China and other closed countries. Forget the vast areas of our globe open to missionaries. Never, never listen to talk about creative access countries.
*** 6) Think how bad a missionary you would be based on your own past failures. It is unreasonable to expect you will ever be any better. Don't even think about Moses, David, Jonah, Peter or Mark, all of whom overcame failures.
*** 7) Always imagine missionaries as talented, super-spiritual people who stand on lofty pedestals. Maintaining this image of missionaries will heighten your own sense of inadequacy. Convincing yourself that God does not use ordinary people as missionaries will smother any guilt you may feel about refusing to even listen for a call from God.
*** 8) Agree with the people who tell you that you are indispensable where you are. Listen when they tell you that your local church or home country can't do without you.
*** 9) Worry incessantly about money.
*** 10) If you still feel you must go, go out right away without any preparation or training. You'll soon be home again and no one can ever blame you for not trying!
Do you know someone who relies on — or did you previously rely on — any of these approaches?
Extraordinary prayer doesn't come by accident. It's not something we stumble upon. It's something we have to seek. Joshua Project has helped us stir hearts with their new little 3-minute video at…
Would you consider showing it at one of your upcoming worship services? Then follow it with 2 minutes of guided prayer from the platform, followed by small group prayer in your congregation or org, perhaps for another 3 or 4 minutes after that? Yes, the entire deal will soak up 10 minutes of your sermon time but, hey — preach on "prayer around the block and around the world" and this can be your application time — and you're already 1/3 of the way finished! : )  (Thanks for the video, Joshua Project.)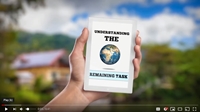 This relatively new video (with relatively few views) just might be the best explanation anywhere of the biggest spiritual needs ever, especially when it comes to understanding the places where the Gospel isn't. Thanks to RW Lewis and Chris Maynard for imagining this clear, clarion call for pioneers. Our hope is that your church or group will find time in the very near future to view and share this video, then prayerfully brainstorm about what action steps you might take to address its truths. 
https://www.youtube.com/watch?v=SVmTU13rgo8&feature=youtu.be
(Thanks to Mission Frontiers for consistently pointing us toward these important facts. And thanks to Telos Fellowship for believing in the importance of sharing these challenges. Finally, we're all grateful to the good folks at JoshuaProject.net for sounding the call for all.)