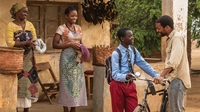 Have you seen "The Boy Who Harnessed the Wind" (available on Netflix)? It's about a young boy in Malawi trying to make it through life in spite of his family's poverty and the political forces around him. He loves science and wants to learn — but there are so many enemies that seem to want to keep him away. The movie seems fit for ages 12 and above for sure. There's a scene or two of fighting, but nothing that a young lad wouldn't see on any other prime-time drama. Frankly, the life lessons about trying to make it in the midst of a corrupt democracy is pretty chilling. You'll ponder this one for a long time after viewing it. Learn more about the movie on the BBC's synopsis page at…
www.bbc.co.uk/bbcfilms/film/the_boy_who_harnessed_the_wind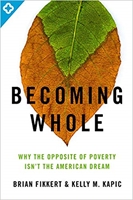 From the author of, "When Helping Hurts," comes a new book, "Becoming Whole." Learn more at…
https://www.amazon.com/Becoming-Whole-Opposite-Poverty-American-ebook/dp/B07G2WLLJY
Perhaps it would make more sense if we included this snippet: "We keep trying to live out the story of Western civilization, even though it doesn't fit who we are as human beings. And we keep asking poor people to join us in the story, giving them roles to play that don't fit them either… We need a better story, one that fits who we a really are as human beings…
"You see, the story of poverty alleviation shouldn't be to turn Uganda into the United States or the inner cities in the suburbs, for all of these places are fundamentally broken. Rather, the right story calls for all these places to become more like the New Jerusalem. That's God's story. It's the only story that is actually true, the only story in which we can actually play the roles for which we've been created. It's the only story that actually works.
"That's what this book is all about; helping us to change the story of our lives in general and of our poverty alleviation efforts in particular." You can actually download an entire chapter for free at…
Today over 1 billion people live on the edge of survival with poor sanitation, no healthcare and little chance of education. There are many causes for poverty but the single greatest obstacle to overcoming this crippling poverty is corruption. Hear Grace's story:
Christians around the world are coming together on this issue as part of the EXPOSED Campaign to shine a light on the scourge of corruption. The campaign wants raise a united voice to the world's most powerful leaders, the G20 when they meet in Brisbane in November this year, and call on them to protect the poorest in our world. Governments are already considering anti-corruption measures, and we can encourage them further. Organizers are asking you to join your light and stand with thousands of others around the world by signing a petition and praying.