Do you live in a sprawling metro area capable of boiling your blood? If so, try CityMapper and make public transport fun! In a place like London or New York, trying to keep track of buses, subways, cabs, and *walking* can drive anyone nuts. CityMapper is amazingly better than just about any app you'll ever find. And it's completely free. You'll need Wi-Fi to set it up (and get real-time updates), but if you just positively have to operate offline, once you've downloaded the trip into your device, you can do so. Check it out for free at…
It will almost ALWAYS be better than the app provided by the local train or bus company AND it lets you specify the mode of travel you WANT rather than the mode that THEY want FOR you.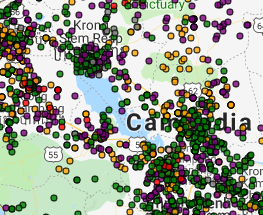 This past week, a great friend of Brigada (Thanks Robby) introduced us to a great friend of Southeast Asia. Dwight went on to show us the set of maps found at…
At the time, we didn't quite realize what a celebrity we had on our Zoom video screen. Later, we noticed this article at Christianity Today…
www.christianitytoday.com/ct/2019/april/missions-data-thai-church-fjcca-reach-village.html
This guy has figured out a way to map every church in Thailand. And now, he'd like to take it to the entire region of Southeast Asia. He's searching for networking agencies who will share data and partner to make this thing regional — instead of just Thai. Amazing concept. If you can help in a nation like Vietnam or Cambodia, just message him at:
info
churchcloudsolutions
com (info
churchcloudsolutions
com)
Volunteer at whatever level you like. Let's see if we (he? : ) ) can roll this out on a regional basis. Thanks for your help.
This past week, one of our contributors (Dan, from YWAM in Lebanon, Pennsylvania) shared a new approach to mapping that still has me reeling. The idea is so radical, it's insane. Yet it's so simple that it's elegant. To get started understanding the concept, watch the video at…
3 words to address the world from what3words on Vimeo.
Then look up the exact point at " prestige refurbish readjust " using the app at…
Just type in those 3 words in the blank. That's all you need to find the exact location of the base from which we publish Brigada!
In fact, three words are all ANYONE needs to find any address in the world. Isn't that crazy? So let's say you're trying to explain the exact place you camped. You could write out a page of instructions, or you could simply say, "I was baptized at what3words: significant.engravings.publication when I was 14." Now, anyone who wants to know can look at the exact lake where I was baptized. They just go to what3words.com and paste in those 3 words and — bam — there you are in the exact hole of water. No more long geocoding. No more highway names and street numbers. Imagine. to the exact footprint — instantly, and in 9 languages (so far). (Thanks for the heads-up, Dan!)