Brigada featured this book before but now it's available in audiobook (for those of us who prefer to listen to a book). "Commission To Every Nation: How People Like You are Blessing the Nations," a US and Canada based interdenominational missionary sending agency, doesn't advertise or recruit but has found a way to find a steady stream of missionary applicants. The founder explains what they do that is working for them. Check it out at
https://www.amazon.com/Commission-Every-Nation-Blessing-Nations/dp/0998508594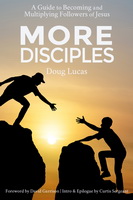 Are you the type that you would rather listen to an oral retelling of a book rather than sit down to read it? Do you have blurred vision by the time you get home at night? Want to make better use of your 15-minute commute to work? Regardless of the case, we hope you'll make good use of the new book, More Disciples, now available in audio form on Audible.com. In fact, Audible has teamed up with DMM training globally by agreeing to donate $75 for every new Audible customer that signs up at this link:
www.audible.com/pd/B07RQVN63F/?source_code=AUDFPWS0223189MWT-BK-ACX0-151337&ref=acx_bty_BK_ACX0_151337_rh_us
Let us repeat that one more time: If you're a new Audible customer and you use the above link to sign up, you will pay the absolutely normal price for Audible. (In fact, we think you get the first month free.) But once you continue your membership (and become a paying customer), Audible has teamed up to sponsor future DMM trainings and/or the translation of the Zúme course (a web-driven online and in-life experience which ALSO trains participants in the very same DMM principles as in live trainings). If just 10 people sign up, they'll contribute $750! And there's no upper limit. (They must appreciate you, new customers.) And from what we understand, you get to listen to many (most?) titles on Audible.com at no extra charge. It's… all you can eat oral-storytelling on steroids!
Or — you can just purchase More Disciples at the price they set. Any proceeds from the sale of the audio book (or the Kindle version or the print version) also go toward DMM trainings. Zero money goes to the authors personally. Learn more at…
https://www.amazon.com/More-Disciples-Becoming-Multiplying-Followers/dp/1939124166
More Disciples is published by WIGTake ("What's it going to take?"), a publishing company launched by David Garrison. The purpose of the book is to help you figure out how to make and multiply disciples, groups (churches), leaders, and movements in the land(s) you love. It's written by Doug Lucas, with an introduction and epilogue by Curtis Sergeant and the foreword by David Garrison.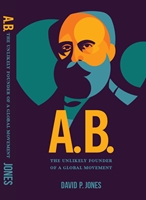 As far as we can tell, this is exclusive news, breaking first right here on Brigada: At the end of this month, May 28 to June 2, at the General Council of The Christian and Missionary Alliance in Orlando, FL , the new biography of "A. B. – The Unlikely Founder of a Global Movement" will be released. Written by veteran C&MA missionary author, David Jones, the book will be available online and through the Alliance website store. The book does a great job covering A. B. Simpson's hopes that the C&MA could be a multicultural tapestry of collaborative risk-takers for the sake of seeing the Kingdom advanced. It will inspire anyone who reads it. Here's a note about the conference where the book will debut. We look forward to learning more about how to order it once it's launched.
www.cmalliance.org/events/2019/council/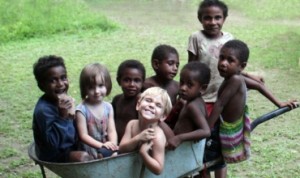 Elementary-age children may find reentry difficult and their parents may not know what to do to help. "We're Going Home" (108 pages) is for children ages 6-12 who are returning to their passport countries. Written at a third grade level, "We're Going Home" includes the story of a family returning to its passport culture. Each chapter also has activities such as scrambled words, crossword puzzles, word searches, mazes, and codes. "I Don't Want to Go Home" (54 pages) is a companion volume for parents. Each chapter in the parent's book has information about TCKs in the Bible, children's TCK issues today, and suggestions to help children reenter well. The books are available to download free of charge as .doc, .pdf, or .zip files for your computer and as .mobi or .epub files for your Kindle or Nook. You can't beat the price. Find them at…
www.missionarycare.com/reentry-for-elementary-children.html
(Can we just say — these Missionary Care people… they assemble all these resources and they never charge the missionary community to use them. I just hope and pray that God will bless them because — they really have a cool spirit about them. Seriously.)
These Barna guys. They just won't stop raising pesky, troublesome topics that haunt us, and nag us, and wake us up to trends that are as disturbing as they are motivating. The latest? When they go meddling with our Bible-reading, now they're writing about something personal. And that's exactly what they've done. Compared with similar studies that they've done over the past 3 years, they found that in 2019, fewer Americans are disengaged with the Bible (which at first seems like a good thing), but at the same time, fewer US of Americans are Bible-centered. And Way fewer Americans *use* the Bible. And one of the spin-off issues is — they also found that when fewer Americans use the Bible, fewer people do anything about their beliefs — like, tell others or give offerings to agencies – like yours. So if we want to keep all these orgs and churches afloat (and, minor details like — help people get to Heaven and escape eternal fire?), we'd better find a way to get people back into the Bible. Eh?
www.barna.com/research/state-of-the-bible-2019/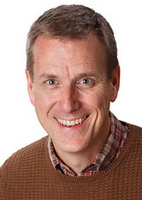 I (Doug) remember the first time I heard Steve Smith speak — just like it was yesterday. I remember thinking, "Wow — this guy is so smart. When I grow up, I want to be like he is." I made up my mind — we had to introduce him to the people of our org. I'm so glad that, last summer, we featured Steve Smith at our organization's global gathering. Our workers from around the world loved his passion for the Word, his commitment to people, and his earnest desire to seek the Spirit's guidance. On March 13, after battling cancer for two years, Steve was promoted to an office in Heaven. Obviously, the Lord knows best. But from where we're sitting, it feels like we've lost a tremendous warrior for the Cause of Christ. Take a look at this tribute page from our friends at No Place Left:
Scroll down the page and check out the articles he wrote in Mission Frontiers alone. This guy was the Energizer Bunny for Christ. Please take a look at the offer on that page for a free copy of his book, "HASTENING," and check out how you can offer it to your contacts.
Our heart goes out to Laura and the family. Only God can console them. But for all of us, it feels like there's this huge galactic hole left behind. See the IMB's mention at…
www.baptistmessenger.com/former-imb-missionary-leader-steve-smith-57-dies/
Please take a moment right now to lift up Laura — and thank the Lord for the blessing it was to learn from this great man of God, co-author of T4T: A Discipleship Re-Revolution, follower of Christ, disciple-maker of many.
(Thanks Robby, for helping give the world a chance to read his books.)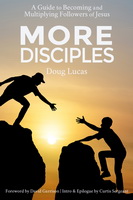 It just showed up on Amazon last month, but already, several people have asked for end-of-chapter discussion questions for the new book, "More Disciples." So this past week, we hunkered down and did a full revision, adding material we had been wanting to include anyway. All of the material is now in the hands of the formatting team. So a revised, enlarged, and expanded version 1.1 of More Disciples will be available in two weeks or so. We'll let you know when it drops. Watch for it in the next 14 days. (We'll do our best to take care of those who already purchased version 1.0.)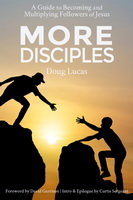 You can find it at…
https://www.amazon.com/More-Disciples-Becoming-Multiplying-Followers/dp/1939124166
or just search "More Disciples on Amazon" to find it from your favorite search engine. More Disciples is written by Doug Lucas, with Introduction and Epilogue by Curtis Sergeant and Foreword by David Garrison. The Kindle version has Worldwide enabled and also comes with enhanced typesetting. Page Flip is enabled and you can also read it on Kindle Unlimited, if you're a subscriber. What's more, if you've already purchased the print version, you can pick up the Kindle version for just 99 cents. One reviewer (L.E.) wrote, "This thorough yet easy read is the one book you need to understand and participate in a disciple-making movement (DMM). Of course it is God who works on hearts and draws people to Himself, but this book is a handy tool for being part of what God is doing in the world and making His name known among the nations." Chris Galanos is author of From Megachurch to Multiplication: A Church's Journey Toward Movement. He wrote, "More Disciples is a must-read for every Christian! Making more disciples is the mission that Jesus left us with and should be a major focus of our lives. Doug does a great job articulating how every Christian can be a fruitful disciple-maker. Perhaps you question if God really can use you to make more disciples. Perhaps you assume that only pastors and missionaries can make more disciples. That couldn't be further from the truth. This book will set you on fire as you realize that God not only CAN use you but WANTS to use you to make many more disciples!" Now, with the Kindle version available, you can take More Disciples with you in an encrypted folder on your hard drive to be a companion in your multiplication journey.
It turns out that one of our workers read The 3D Gospel by Jayson Georges some time ago. The message of the book helped her so much that she and some teammates called together some translators and managed recently to push the whole book into Standard Arabic. Find it for free at…
(Thanks for this cool gift to the entire world of believers!)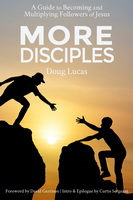 We've mentioned a couple of times that you'll soon be able to order the new book, "More Disciples," published by WIGTake Resources (the same group that brought you "Church Planting Movements" (Garrison) and "T4T" (Steve Smith and Ying Kai) and several other books. The book showed up on Amazon this past weekend. Find it at…
https://www.amazon.com/More-Disciples-Becoming-Multiplying-Followers/dp/1939124166/
Because Doug is the primary author, he didn't want to say anything about the book himself. (That would be awkward.) So we'll just feature what others have said about it. As a follower of Jesus, what's the one thing you can take with you from this life to the next? The answer: more disciples. More Disciples is a practical, how-to guidebook that lays out a clear path for learning and implementing church-planting movement (CPM) and disciple-making movement (DMM) strategies and life principles. It includes in text form all of the concepts of the web-driven course, ZumeProject.com. In addition, readers can go deeper at a companion website, MoreDisciples.com (currently being revised to mesh with the book). Author and researcher, David Garrison, wrote, "More Disciples addresses head on the fundamental question: What's it going to take to bring the world to faith and discipleship in Jesus Christ? More Disciples takes the centuries-old-challenge and, through the grace of God, places it within our grasp." DMM specialist, David Watson, added, "More Disciples is a book well done being published at a critical moment for the church and those who wish to see all nations as brothers in Christ. There are several major take-aways that will touch every audience. The book addresses one of the weaknesses in disciple-making movements by supplying curricula that is culturally adaptive and ready for those who are interested." Author Jerry Trousdale went on to say that, "More Disciples is truly an excellent resource for people wanting to get started, or get better at, catalyzing multiplying disciples. But it will also be a very useful reference resource for CPM/DMM veterans."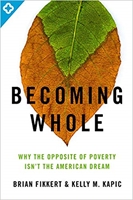 From the author of, "When Helping Hurts," comes a new book, "Becoming Whole." Learn more at…
https://www.amazon.com/Becoming-Whole-Opposite-Poverty-American-ebook/dp/B07G2WLLJY
Perhaps it would make more sense if we included this snippet: "We keep trying to live out the story of Western civilization, even though it doesn't fit who we are as human beings. And we keep asking poor people to join us in the story, giving them roles to play that don't fit them either… We need a better story, one that fits who we a really are as human beings…
"You see, the story of poverty alleviation shouldn't be to turn Uganda into the United States or the inner cities in the suburbs, for all of these places are fundamentally broken. Rather, the right story calls for all these places to become more like the New Jerusalem. That's God's story. It's the only story that is actually true, the only story in which we can actually play the roles for which we've been created. It's the only story that actually works.
"That's what this book is all about; helping us to change the story of our lives in general and of our poverty alleviation efforts in particular." You can actually download an entire chapter for free at…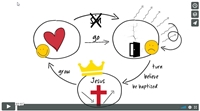 The book, More Disciples, trains readers how to share the 3 Circles Life Conversation (originally developed by Family Church in West Palm Beach, Florida) on page 118-122. In frame-by-frame storyboards, the book helps readers easily learn to share the Good News using this readily-adapted format. See More Disciples here…
https://www.amazon.com/More-Disciples-Becoming-Multiplying-Followers/dp/1939124166
You can watch a video version of this colorful 3 Circles presentation online at…
Marriage is complicated enough! Then when you add a cross-cultural living situation and a cross-cultural ministry, things begin to get really confusing. The nineteen chapters in "Missionary Marriage Issues" will help you navigate your way through the confusion. The book is available to download free of charge as .doc, .pdf, or .zip files for your computer and as .mobi or .epub files for your Kindle or Nook. You can't beat the price. Find it at…
www.missionarycare.com/missionary-marriage-issues.html