Lifeway is running a free online Bible study for ladies beginning January 9th. All you'll need is the Bible study book. Access to the videos will be free through March. Learn more at…
onlinestudy.smallgroup.com/v/DefinedOBS
(You might even be able to win a free book somehow there!)
…and we mean the whole Bible. It literally asks you questions about every single chapter, beginning to end, Genesis to Revelation. Honestly, we can't remember ever seeing anything so comprehensive in our whole lives. This would *especially* be useful for the business as missions type guy or gal who went to a university, but didn't get to study at a Bible college. But it would also be SUPER for the Bible college or seminary grad because it would act as a cool review for the whole book! Check out the two books at…
www.balancingthesword.com/books.asp
and the reading planning software at…
www.balancingthesword.com/software.asp

The Discover App is a free Discovery Bible Study (DBS) app for Android and iPhone in English, Arabic, Somali, Dari, Pashto and Indonesian (with more languages in development). It is ideal for running DBS groups and making disciples who make disciples – even if you don't speak the language of the people you are reaching. Try it today on your phone.
When you search your marketplace for the app, be sure to call it "Discover Bible" — and the author will be "books."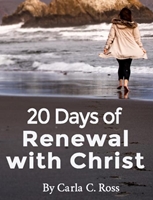 Author Carla Ross has teamed up with Editors Carl Taylor and Tina McCormick to produce a new book designed to help you encounter afresh a love and appreciation for the help and friendship Christ can provide via scripture. Completely Bible-based, this brand new release would especially make a great study for a ladies group or adult Bible fellowship. There's plenty of space for notes and responses. The end result will almost certainly help you through tough challenges or dry spiritual deserts. Each chapter walks you through solutions to struggles such as burn-out, anxiety, depression, spiritual warfare and bondage. Carla's strong nursing/medical background includes coordinating an Intensive Care Unit at an award-winning hospital. Learn more and order at…
https://www.amazon.com/dp/1796524972/
If you live in Canada (or know someone who does), don't miss the kick-off for Zúme there, April 7, 3pm. Zúme Training is an on-line and in-life learning experience designed for small groups who follow Jesus to learn how to obey His Great Commission and make disciples who multiply. The official kick-off service will take place at Rexdale Alliance Church, 2459 Islington Avenue, Etobicoke, ON M9W 3X9. The entire event will be live-streamed as well. Organizers will introduce the training. They will also be looking for people whom God is raising up to help lead the Zúme project in Canada. Speakers will include Andy Smith, Jonathan and Corinna McMurray, Doug Lucas, and others. Learn more about Zúme at…

We asked recently for your thoughts about favorite Bible studies or courses and we were struck by several resources mentioned in follow-up comments. "Chris" couldn't say enough good stuff about J.D. Greear's "The a Gospel According to Jonah." Charles wrote about the Topical Memory System, published by The Navigators. Michael highlighted Charles Swindoll's "Hand me another Brick," adding that "It looks at personal character, hearing God, following God's call and the list goes on. Good leadership development tool. When I have used it in the past it was hard to find copies but Amazon has it in stock currently." Mark commented, "Oral learners will appreciate Bible studies that are relational. Let them exegete the study rather than using workbooks or lecture. And have a blast doing it!" He pointed us to a free catalog that includes Spiritual Warfare, Making Disciplemakers, Heroes & Villains, Jesus is Enough, Family Time Devotions, Go Story! (Volunteer training), and many more," available by writing to SnowdenMinistries
gmail
com . Thanks to all these folks for your input!