After looking at the comparison at…
www.onlyoffice.com/best-microsoft-office-alternative.aspx
We're trying to figure out why we wouldn't use this app as our main way to create and view documents, spreadsheets, and presentations. Their desktop version seems solid (and, in some ways, a lot clearer?). And their cloud version can be free for qualifying nonprofits. And it's open source, right? So we can see the security holes (if there are any), right? And wow — the price is great (free for the desktop version; free for the cloud version for qualifying nonprofits). Can someone click "comment" below this item and tell us why we shouldn't invest in this rather than corporate alternatives?
Beginning this past week, the outliner app called TaskAid began marketing a "Pro Plan" with lots of key new features, all for free — if you can find just 12 people per year to love the app as much as you do. (One free month for every person you refer.) Learn more about Taskade by visiting…
We love it that Taskade is quick, fun, and easy, yet amazingly powerful. Use it across all your devices, upload an unlimited number of file attachments (unlimited!), invite others to collaborate with you and edit the same task list or outline simultaneously. Use tags to keep things super-organized and search for a "needle in a haystack" to find anything you want. And unlike Google docs, Taskade doesn't get trolled for advertising revenue. There are NO ads. Use templates, multiple workspaces, and a whole lot more. Try it today.
And sure, if you plan to register, feel free to tell them we sent you, but we're already good for 12 months out in the future. The important thing is to use the app if it looks helpful.
www.taskade.com/u/dlucas/recommend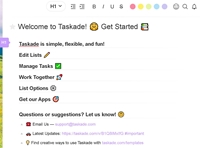 We've mentioned Taskade before. You can use this app as an outliner, list-maker, thought-organizer, and collaboration base. The free version gives you unlimited lists, all of which can be organized in bullets and "folded up" so you can make sense of "both the forest and the trees." The free version also allows you to include an unlimited number of collaborators, plus you can include due dates, reminders, use templates, conduct team chats, and even do voice and video calls (all for free!). The product syncs in real-time across platforms, meaning you can start your list on your laptop in your office and continue it on your phone in the park while walking the dog (as long as your dog doesn't mind). It will send push notifications (that actually work) to your phone and laptop as well. And there are custom mobile and desktop apps for everything you can imagine. What's more, it's encrypted end to end and the vendor pledges that there are regular backups going on constantly. By pitching in $84/year, you can pick up a crucial feature: global search (which works instantly, by the way) AND unlimited attachments. (The free version is limited to 100 Meg of storage.) Think about it — unlimited means 5 gigs or 5 terabytes (in 50 meg chunks, mind you) – it doesn't matter. Pretty cool.
For some reason, we're liking Taskade better than any of the other outliners out there right now. The sharing aspect seems somehow easier to grasp than Workflowy and we love the "startup" mentality of Taskade. (The staff is incredibly responsive and has even participated in 'live' brainstorming sessions with us.)
Try Taskade for free at…
Waymakers have developed a great campaign called, "Seek God for the City," designed to mobilize many to pray with united, sustained vision for people of your community. You can invite your small group, your Sunday School class, your mission org, all the missionaries you support, and/or your entire church to take part. We mentioned the Spanish version above (Item 3), but in this item, we're highlighting the app version in particular. It's just 99 cents and you can download it to your phone or smart device wherever you normally get your apps. Just search "Seek God 2019" and you can find it for iOS, Android, and even the Kindle Fire. Learn more at…
waymakers.org/pray/seek-god/app/
(Thanks again, Betty!)
What's your favorite Android or iOS app for assisting with a foreign language real-time translation, say, when an English-speaking pastor is visiting your church and you need the sermon to be understood by Zarma (Zerma) listeners? …or Somalis? …or you fill in the blank. Are there apps that, for example, allow a listener to use his own earbuds on his smartphone, while logged on to the wi-fi of the event or church? For example, could someone use a service like…
One would simply be broadcasting "live" at the back of the church, right? So people in the audience would log on to that live broadcast and it would be their current church service, except, someone would be contextualizing the message for the hearing crowd — in the language you need. Wouldn't that be awesome? Are there apps to aid in such a thing?
After multiple exchanges with a ton of users, we did indeed decide to set the Brigada app free. It was a great experiment. But what we found, most of all, is that most people seem just as satisfied receiving Brigada via email. And since the Brigada webpage is "responsive" (meaning it's "made for mobile"), it seemed that most users thought of the webpage as being "enough."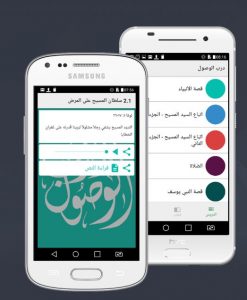 Guess what: There already is. If you speak Levantine Arabic (the Arabic of the Levant, which is spoken in parts of Cyprus, Egypt, Iraq, Israel, Jordan, Lebanon, Palestine, Syria, and Turkey, there is a website and an Android app for you.
https://darb.thedmmplatform.com/
This website and the accompanying Android app exist to support leaders at every stage of their discipleship and leadership journey with a system of easy to use resources in Levantine Arabic. They do this so that generations of whole and healthy disciples of Jesus can be developed and the glory of God more fully expressed. Now if you don't speak Levantine Arabic, the cool part is — they at least show enough of the site in English so you can admire it. There are 351 lessons — and all of them are amazing. You can read the Arabic online or in the app, or LISTEN to it as an audio presentation. It's really quite remarkable — and it raises the bar high for all the other languages of the world. Well done, DMMPlatformers!